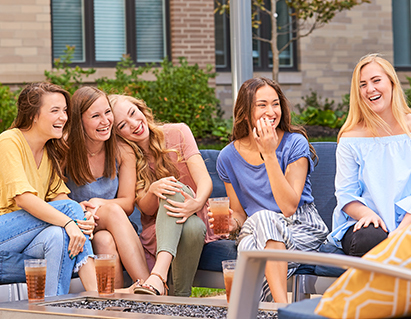 Risk Prevention
Kappa Alpha Theta is committed to educating our college chapters on how to prevent risk and manage risky behavior. One of the Fraternity's three aims is the widest influence for good. By adhering to the Fraternity's risk policies, members ensure they are representing the Fraternity's high ideals.
Statement on Sexual Assault & Gender-Based Violence
Kappa Alpha Theta is committed to providing a safe and welcoming environment free from sexual assault and gender-based violence. Kappa Alpha Theta condemns and will not tolerate sexual assault and/or gender-based violence, as such behavior is not in alignment with our values, adversely impacts our members, and violates expectations of membership. We believe Kappa Alpha Theta members have a role to play in addressing and preventing sexual assault and gender-based violence by:
Supporting survivors of sexual misconduct and sexual violence;
Committing to engaging members in prevention and intervention efforts;
Not supporting events contributing to the objectification/sexualization of groups of people, including women, or the reinforcement of restrictive gender roles;
Working to connect members to resources to prevent sexual misconduct and sexual violence, as well as resources for those members who are survivors of interpersonal violence; and
Partnering with subject matter experts to provide education, engage in prevention efforts, and serve as catalysts for change within chapters' campus/communities on an ongoing, regular basis.
Statement on Hazing
Kappa Alpha Theta seeks to promote an environment that is physically and emotionally safe at all times and does not tolerate any acts that may be constituted as hazing.

Hazing can be defined as an activity that endangers or is likely to endanger the emotional and/or physical health or safety of a member or new member or which tends to humiliate, embarrass, or cause personal discomfort regardless of one's willingness to participate in such activity.
In many jurisdictions, hazing is subject to legal consequences, including criminal liability. Hazing, in any form, will not be tolerated. Hazing may result in chapter and member discipline, including termination of membership.
Risk Prevention Committee
The risk prevention committee is responsible for risk prevention programming for college chapters. The committee chairman will work collaboratively with university administrators, collegians, and local advisors during alleged risk management investigations.
Contact Us
HazingPrevention.Org
HazingPrevention.Org is a national organization dedicated to its mission to empower people to prevent hazing in college and university student groups.
Learn More