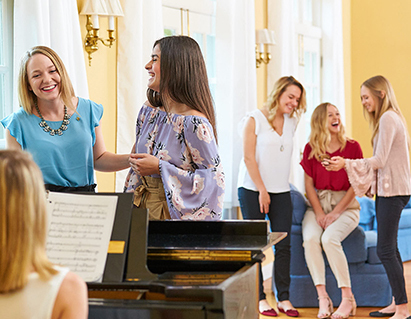 Programs
Theta offers experiences and programs to both collegians and alumnae that are designed to support lifelong learning, service, leadership, personal excellence, and sisterhood.
Outstanding Faculty Award
Kappa Alpha Theta is proud of recognize ten outstanding faculty members per academic year for their contributions to colleges and universities where Theta chapters are present.
Learn More
Senior Celebration
Senior Celebration is a program created to honor and recognize our graduating seniors. The program provides graduating seniors with a formal transition into their alumnae experience.
Learn More
Sisters Supporting Sisters
Sisters Supporting Sisters is a mental health initiative designed to increase the dialog concerning and support for all aspects of mental health.
Alumnae Programs
Alumna Initiate Program
Kappa Alpha Theta Alumna Initiate Program offers membership to exceptional women who, are committed to our core values; intellectual curiosity, leadership potential, commitment to service, and personal excellence.
Learn More
Life Loyal Program
Being a part of Kappa Alpha Theta starts in college, but it doesn't end there. The good friends, the laughter, the loyalty—everything that makes Theta the wonderful experience it is—that's for a lifetime.
Learn More