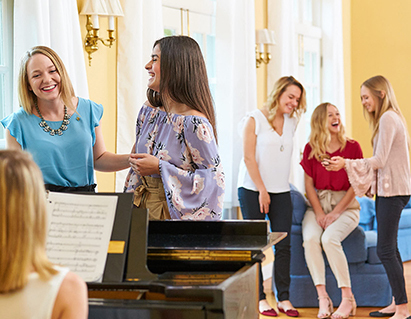 Alcohol Skills Training Program
Unlike most alcohol education programs, Alcohol Skills Training Program (ASTP) acknowledges the reality that college students may choose to drink. Rather than focusing solely on imposing abstinence, it recognizes that any steps taken toward risk reduction are steps in the right direction. Through ASTP, Kappa Alpha Theta joins other interfraternal organizations in offering a program that focuses on risk management and education through conversation and programming.
For a long time, research has established that information alone does not always change behavior. ASTP aims to educate students about alcohol use, while increasing their interest in critically examining their drinking patterns. The goal is to teach students to recognize high-risk situations in order to minimize those potential risks through a combination of preventative action, reduced consumption, and abstinence.
ASTP uses cognitive-behavioral self-management and motivational interviewing techniques to provide all members—both those who choose to drink and those who don't—with information regarding alcohol use and its associated negative consequences, in order to reduce harm.
Theta Foundation
The ASTP program is sponsored by a grant from Kappa Alpha Theta Foundation.
Visit Theta Foundation
Host an ASTP Program
Contact us if your chapter is interested in hosting an ASTP session in the fall of 2022.
Complete the Interest Form
Contact Us
Contact us with questions about ASTP.