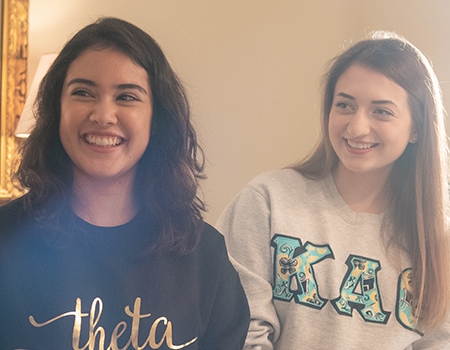 Outstanding Faculty Award
Kappa Alpha Theta is proud to recognize ten outstanding faculty members for their contributions to colleges and universities where Theta chapters are present. Professors are carefully chosen for this award among a pool of distinguished nominees who were nominated by Kappa Alpha Theta chapters across the United States and Canada via an official nomination and selection process. Chapters were asked to select one nominee based on his or her passion to inspire students and actions that connect to Theta aspirations: intellectual curiosity, leadership potential, commitment to service, and personal excellence. Candidates are not limited by gender, fraternity or sorority affiliation (or non-affiliation), disciplinary expertise, or number of Thetas taught.
Commitment to higher education and scholarship, as demonstrated by these faculty members, is also a cornerstone of Kappa Alpha Theta's mission. This shared commitment—and the desire to honor individuals who have left an indelible mark on the lives of Thetas across the continent—was the impetus to establish the Kappa Alpha Theta Outstanding Faculty Award.
The 2018 recipients are as follows:
Testimobial Heading for screen readers.
Carli Conklin

Associate Professor
School of Law and Kinder Institute
University of Missouri

Andrea Nicholas

Associate Teaching Professor
Department of Neurobiology and Behavior
UC Irvine

Dr. Tim McCarty

Political Science
University of San Diego

Adrienne Krone

Assistant Professor of Religious Studies and Director of Jewish Life
Allegheny College

Karie Davis-Nozemack

Associate Professor of Law and Ethics
Law and Ethics (School of Business)
Georgia Institute of Technology

Rina Agarwala

Associate Professor, Director of Undergraduate Studies
Department of Sociology
Johns Hopkins University

Dr. John Fort

Associate Professor/Pre-Law Advisor
Economics Department
Wofford College

Margarita Groeger

Senior Lecturer in Spanish
Global Studies and Language Department
Massachusetts Institute of Technology

Lilly Irani

Assistant Professor of Communication & Science Studies
Communications Department
UC San Diego

Kami Fox

Director and Chair Department of Nursing
College of Nursing
Ohio Northern University