Bettie and Her Family
"Bettie and Her Family: Four Generations of Thetas," a special exhibit, ran from January 23 to June 2, 2017, at Theta headquarters in Indianapolis.
It featured photographs and tintypes, clothing and accessories, Theta memorabilia, and hundreds of letters from Bettie as well as from her daughters, granddaughter, and great-granddaughter, also Thetas.
The artifacts—many of which were donated by the family of Bettie's great-granddaughter—reflect not only the family's involvement in the first Greek-letter fraternity for women but also the personal and professional lives of five college-educated women over 150 years.

Through the video of this exhibit, we can hear the voices of Bettie and her Theta descendants across the years and reflect on their impact on our own lives through Kappa Alpha Theta.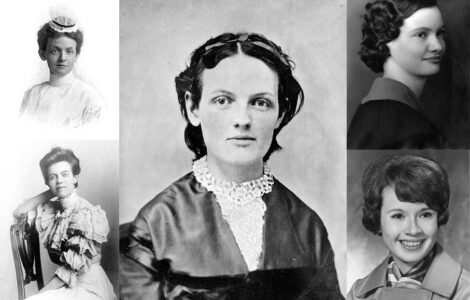 Bettie Locke and Her Family: Four Generations of Thetas
The short video covers some of the highlights of this archival exhibit. It reflects the lives of Bettie Locke, her daughters Edna and Eulalia; her granddaughter, Genevieve; and her great-granddaughter, Carole.