Fraternity/Sorority History
https://d1j8dcgobb3n6i.cloudfront.net/heritage/Heroes/Hero_GreekLetters_Mobile.jpg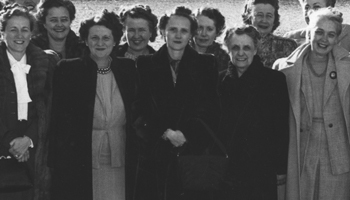 Theta is part of the long history of fraternities and sororities in North America.
Phi Beta Kappa, established in 1776 at the College of William & Mary, was the first Greek-letter group for college students in the United States. In its early days, it was more a social fraternity rather than the honorary group it is today. The Kappa Alpha Society, established in 1825, was the first solely social fraternity. While a few colleges opened their doors to female students and several groups were established prior to the Civil War (The Adelphean Society, 1851), it was not until the post-Civil War period of the 1870s that many colleges welcomed female students. These young women sought to establish support networks on their campuses via the social fraternity, particularly important as female students were greatly outnumbered by male students.
Resources
While there is no comprehensive history for fraternities and sororities, several works look at specific aspects of their history. Many individual groups have published a history of their organization. For general overviews, you may want to look at:
Many universities and colleges are establishing programs to actively collect the history of fraternities and sororities on their campus (as well as other student organizations), so check with the university archives or special collections if interested in student life on a specific campus.
Additional Resources
Stewart S. Howe Collections
The Student Life and Culture Archives collects, preserves, and makes available materials documenting fraternity and sorority history nationally and all aspects of student experience at the University of Illinois.
Focus on Fraternity History Blog
Fraternity/sorority historian Fran Becque, Ph.D., shares stories connecting the past to the present and the future.