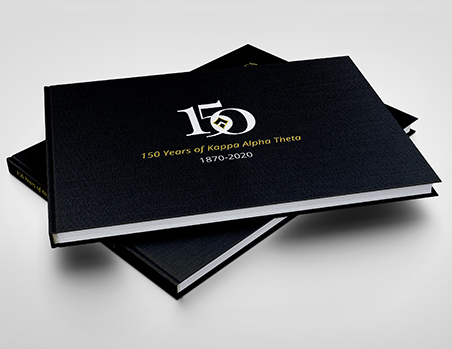 150 Years of Kappa Alpha Theta
There is something special about 150 years of sisterhood … 150 years of the first Greek-letter women's organization … 150 years of Kappa Alpha Theta.
To celebrate this monumental milestone, we're publishing a book! 150 Years of Kappa Alpha Theta takes a comprehensive look at our rich history through archival images and artifacts. Using a decade-by-decade structure, the 96-page hardcover book will include badge and jewelry photographs, historical vignettes, chapter establishments, quotes, and much, much more.

Purchase Your Copy
Purchase your copy of 150 Years of Kappa Alpha Theta for 10% off with THETA150 until 11:59pm Eastern on January 27, 2020.
First Greek-letter Fraternity for Women
Indiana Asbury admitted female students for the first time in the fall of 1867, and Bettie was among the first five women to enter the college. Learn more about Bettie and Theta's history below.