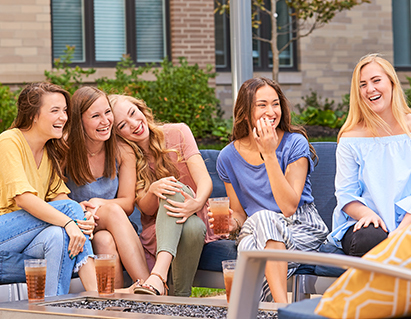 Careers
Kappa Alpha Theta International Headquarters houses Fraternity, Theta Foundation, and Fraternity Housing Corporation staff. Located in Indianapolis, Indiana, we employ more than 50 in-office and remote employees.
Kappa Alpha Theta Openings
Thank you for your interest in joining our team! Please check below for career opportunities with the Fraternity, Theta Foundation, and Fraternity Housing Corporation.

View Theta Openings
Summary/Objectives


The assistant director of collegiate services and education & leadership works with both the director of collegiate services and the director of education & leadership on all matters related to college chapter support and leadership development and training for the Fraternity.

Essential Functions

Coordinate high priority chapter support.
Manage and coordinate the Emerging Leaders Institute and Junior Leadership Program.
Support the annual chapter assessment program and chapter recognition.
Collaborate with staff to enhance the member experience, with a specific focus on college member retention.
Develop and manage online training modules, including college officer training.
Manage membership status changes.
Assist with grant applications and reports for applicable programs.
Manage and update appropriate forms and documents pertaining to education, leadership, and training in various portals and online communities.
Serve as a representative of the collegiate services and education & leadership department on various task forces and committees.
Assist with educational programming at the Fraternity's meetings, conferences, and institutes.
Assist with special projects as directed by director of collegiate services or director of education & leadership.
Other responsibilities as assigned.

Requirements/Preferred Experience

Knowledge of: College student development (theory and best practice), trends and best practices in higher education, trends and best practices in student learning, trends and best practices in adult learning, and organization policy and procedure.
Skill in: Microsoft Office Suite, project management, curriculum development, assessment, inclusion, facilitation, advising, and leadership.
Ability to: Supervise staff and/or volunteers (volunteers are remote), collaborate, lead groups, manage a budget, problem-solve and think strategically, and research and write curriculum.
Preferred Education and Experience: Bachelor's degree required. Master's degree in student affairs, higher education, counseling or related field preferred.
Position Overview

Provides complete oversight of the real and personal property for Fraternity Housing Corporation (FHC) owned or managed properties.

Essential functions include:


Using discretion on matters of significance including coordinating all necessary and scheduled maintenance and repairs with vendors. Discuss any large-scale repairs (e.g., new water heater) with FHC Executive Director and FHC Director of Property Management prior to approving these repairs.
Hiring and supervising facility directors at FHC properties; write annual contracts and provide performance reviews as needed. Provide supervision to facility directors at FHC properties, write annual facility director agreements and performance reviews. Assist with the interviewing of facility director candidates and centralized training process of all facility directors.
Creating and monitoring up to 20 chapter budgets to ensure accuracy and provide ongoing communication with the FHC accountants. Use discretion when authorizing funds to be spent.
Managing the maintenance, inventory, and oversight of properties owned or leased within FHC.
Working directly with colleges or universities on renovation projects, maintenance, etc. where the university owns the property. Build working relationships with university and campus partners to ensure the proper upkeep of the Theta properties on campus.
Meeting with chapter advisors and undergraduate officers to ensure all aspects of the facility are being well-maintained. Communicate with chapter advisors and undergraduate officers regularly via email. Hold virtual (or in-person when able to) meetings with chapter leadership to discuss any facility-related issues.
Coordinating the annual wish list process with FHC chapters and advisors, and provide a wish list summary to FHC Interior Designer.
Creating and monitoring maintenance schedules, via the Property Management Portal. Ensure the Facility Information section in the portal is updated annually, either by the property manager or facility director.
Working with FHC interior designer on facility design assessments, furnishing replacement and requests, renovation projects, and budgets. Provide information about chapters' Wish List requests to FHC Interior Designer and connect her with chapter leadership so she can fulfill Wish List approved purchases.
Collaborating with the finance team to ensure chapters fulfill their required number of room rental licenses. Work with the finance team for any vendor payment issues or member concerns regarding costs.
Assisting FHC Executive Director on special projects or requests as needed.
Traveling to owned or managed properties one or two times per year and more frequently during renovations or as needed. Travel time is 30% of the job and happens throughout the United States. Overnight travel is required.

Competencies


This position demands the ability to work well with people, be detail-oriented and have excellent organizational and communication skills. The ideal candidate with have experience managing multiple priorities and projects; understand the demand of working with collegiate women; supervision of multiple staff members; working to create and manage budgets; and in a property management, facilities or university housing position.

Preferred Education and Experience


Bachelor's degree required.
Position Overview

Responsible for maintaining the technology environment of the organization including the provisioning of technical support and ensuring the smooth operations of daily technical support needs.

Must be highly analytical in nature and skilled at solving technology-related issues.

Essential functions include:

IT Service Management: 5% of resource allocation

Maintains overall IT operational effectiveness & efficiency
Escalation and resolution for major incidents
Participation in the sustainability of Service Level and Operation metrics

IT Operations: 25% of resource allocation

Monitor IT systems
Oversee upgrades and installations
Train new employees on proper use of Theta technologies
Analyze security breaches to identify root cause
Drive continual improvement of support services
Continuous update of incident response management
Monitor security access
Accountable for the conduct security assessment (vulnerability testing/risk analysis)
Regular review and compliance with disaster recovery plans
Ownership for meeting performance levels (SLAs & OLAs)

IT Support: 70% of resource allocation

Device and password management
Provide accurate information on IT products or services
Record events and problems and their resolution in logs
Follow up and update customer status and information
Identify and suggest possible improvements on procedures
Serve as the first point of contact for customers seeking technical assistance over the phone or email
Perform remote troubleshooting through diagnostic techniques and pertinent questions
Determine the best solution based on the issue and details provided by customers
Walk the customer through the problem-solving process
Direct unresolved issues to the next level of support personnel
Pass on feedback or suggestions by customers to the appropriate internal team
Respond to Zendesk tickets for assistance with Salesforce reporting
Install, configure computer hardware, software, systems, printers, and copiers

Competencies


Strong member and staff service orientation
A technical, logical thought process
Problem-solving skills
An ability to meet strict deadlines
An ability to effectively prioritize multiple competing support issues
A keen eye for details
Action-oriented

Preferred Education and Experience

High school diploma or GED required
Minimum of three years experience in IT and two years in a customer service role
Extensive familiarity with Microsoft suite of products (Office, OneDrive, Outlook, etc.)
Working knowledge of security software options and functionality preferred
Ideally, one to three years of experience within the Greek community
How to Apply
To be considered for an opening, please complete the form below and include a resume, cover letter, salary expectations, and a list of three references.