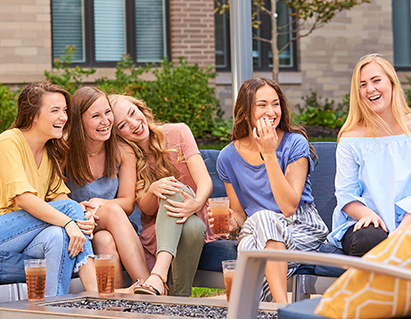 Careers
Kappa Alpha Theta International Headquarters houses Fraternity, Theta Foundation, and Fraternity Housing Corporation staff. Located in Indianapolis, Indiana, we employ more than 60 in-office and remote employees.
Kappa Alpha Theta Openings
Thank you for your interest in joining our team! Please check below for career opportunities with the Fraternity, Theta Foundation, and Fraternity Housing Corporation.

View Theta Openings
Are you self-disciplined with a love for solving problems? Do you pay attention to the details and possess great communication skills? Do you have a passion for technology?


Essential Functions:

Responsible for maintaining the technology environment of the organization including the provisioning of technical support and ensuring the smooth operations of daily technical support needs.
Must be highly analytical in nature and solve technology-related issues.

IT Service Management: 5% of resource allocation


Maintains overall IT operational effectiveness & efficiency
Escalation & resolution for major incidents
Participation in the sustainability of Service Level and Operation metrics

IT Operations: 25% of resource allocation


Monitor IT servers and systems
Oversee upgrades and installations
Train new employees on proper use of Theta technologies
Analyze security breaches to identify root cause
Drive continual improvement of support services
Continuously update incident response management
Monitor security access
Accountable for the conduct security assessment (vulnerability testing/risk analysis)
Regular review and compliance with disaster recovery plans
Ownership for meeting performance levels (SLAs & OLAs)

IT Support: 70% of resource allocation


Device and password management
Provide accurate information on IT products or services
Record events and problems and their resolution in logs
Follow up and update customer status and information
Identify and suggest possible improvements on procedures
Serve as the first point of contact for customers seeking technical assistance over the phone or email
Perform remote troubleshooting through diagnostic techniques and pertinent questions
Determine the best solution based on the issue and details provided by customers
Walk the customer through the problem-solving process
Direct unresolved issues to the next level of support personnel
Pass on feedback or suggestions by customers to the appropriate internal team
Respond to ZenDesk tickets for assistance with Salesforce reporting
Install and configure computer hardware, software, systems, printers and copiers

Competencies: 

Strong member and staff service orientation
A technical, logical thought process
Problem-solving skills
An ability to stick to strict deadlines
An ability to effectively prioritize multiple competing support issues
A keen eye for details

Education and Experience:

High school diploma or GED required
Minimum of one year experience in information technology or two years in customer service role
Extensive familiarity with Microsoft suite of products (Office, Teams, OneDrive, Outlook, etc.)
Working knowledge of security software options and functionality preferred
Ideally, one to three years of experience within the fraternity community

Relationships: 

Reports to the chief information officer and works closely with other members of the business and IT teams.

Application Instructions: 

Please complete the application form below.

How to Apply
To be considered for an opening, please complete the form below and include a resume, cover letter, salary expectations, and a list of three references.