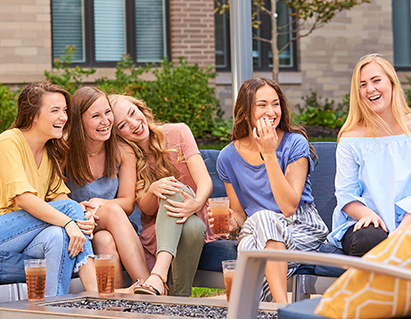 Careers
Kappa Alpha Theta International Headquarters houses Fraternity, Theta Foundation, and Fraternity Housing Corporation staff. Located in Indianapolis, Indiana, we employ more than 50 in-office and remote employees.
Kappa Alpha Theta Openings
Thank you for your interest in joining our team! Please check below for career opportunities with the Fraternity, Theta Foundation, and Fraternity Housing Corporation.

View Theta Openings
The graphic designer serves as the designer for Kappa Alpha Theta marketing/communication materials.


Specific Responsibilities:


Develops multiple projects including print and digital marketing materials.
Collaborates with team members used for direct mail, email, social media, website, and other applications.
Develops the visual identity, theme, and materials for large events or projects such as Grand Convention.
Manages (and develops when needed) all branded templates and materials available for use by staff and workforce, such as printed stationery and Microsoft Word/Excel/PowerPoint templates.
Develops supporting materials for programming in collaboration with other entity departments, such as recruitment, extension, and Life Loyal.
Prepares files for production, including print and digital executions, and oversees production process in collaboration with the project manager.

Relationships: 

Reports to the chief marketing officer, and works closely with other members of the marketing/communications department.


Skill Sets:


Command strong design abilities and proficiency in Adobe Creative Cloud.
Possess strong communication skills, especially working within client relationships.
Self-motivated and ability to take initiative on projects.
Strong ability to understand and solve creative challenges.
Strong knowledge of brand communication and digital marketing.
Ability to work in a collaborative, team atmosphere.
Video editing/motion graphics experience preferred.

Qualifications:

Bachelor's degree in graphic design/visual communications.
Minimum one year experience preferred.

Application Instructions: Please complete the application form below.
How to Apply
To be considered for an opening, please complete the form below and include a resume, cover letter, salary expectations, and a list of three references.