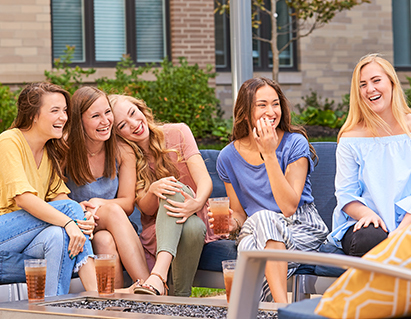 Careers
Kappa Alpha Theta International Headquarters houses Fraternity, Theta Foundation, and Fraternity Housing Corporation staff. Located in Indianapolis, Indiana, we employ more than 50 in-office and remote employees.
Kappa Alpha Theta Openings
Thank you for your interest in joining our team! Please check below for career opportunities with the Fraternity, Theta Foundation, and Fraternity Housing Corporation.

View Theta Openings
Position Overview

The Foundation Programs Manager is responsible for supporting all aspects of Theta Foundation's scholarship and grant programs, including: maintaining membership and application databases; coordinating application, evaluation, and selection processes; preparing and executing communications; responding to program inquiries; and preparing reports in addition to providing other support to the programs director.

Essential functions include:

Coordinates confidential processes in grantmaking and scholarship activities according to best practices and policies approved by the Foundation Board of Trustees
Implements procedures for the application, evaluation, selection, and notification phases of grant and scholarship programs
Develops and maintains historical records of programs and recipients
Prepares and disseminates written communications, mail merges, and surveys
Interacts with applicants, references, donors, Fraternity/Foundation staff/volunteers, and stakeholders regarding information on programs, awards, and recipients
Collaborates with the programs director to outline data collection and reporting needs and maintains accuracy of applicant and recipient data in Salesforce
Coordinates selection processes and meetings, including preparing application and selection materials and communicating with evaluators
Provides innovative ideas to further educate members and steward donors
Maintains close and regular partnership with marketing/communications staff to guarantee program information is communicated efficiently and effectively to stakeholders
Provides help as needed to other members of Theta Foundation staff

Competencies

Knowledge:

Knowledge of best practices in scholarship and grantmaking
General knowledge of financial aid application processes and terminology
Basic understanding of fundraising methods, approaches, and stewardship standards
General knowledge of marketing and communications, including an understanding of web and social media best practices and trends

Skills/Abilities:

Excellent written and oral communication skills
Strong analytical and quantitative abilities
Ability to manage and prioritize multiple tasks with various deadlines
Outstanding interpersonal and diplomatic skills used to communicate effectively with program stakeholders
Strong database navigation and management skills
Ability to run reports, develop and maintain records, and provide an historical reference of programs and recipients

Preferred Education and Experience

Education:

Bachelor's degree required

Experience:

Two years of professional experience in grantmaking, higher education, and/or nonprofits preferred
Experience working with volunteer personnel
Experience planning, prioritizing, and organizing multiple concurrent projects
Salesforce experience preferred
How to Apply
To be considered for an opening, please complete the form below and include a resume, cover letter, salary expectations, and a list of three references.