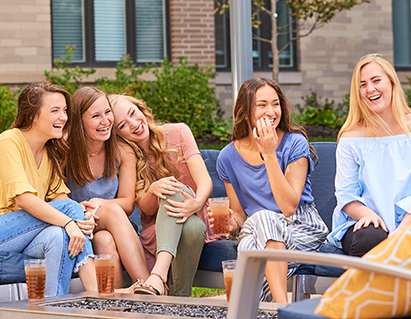 Careers
Kappa Alpha Theta International Headquarters houses Fraternity, Theta Foundation, and Fraternity Housing Corporation staff. Located in Indianapolis, Indiana, we employ more than 50 in-office and remote employees.
Kappa Alpha Theta Openings
Thank you for your interest in joining our team! Please check below for career opportunities with the Fraternity, Theta Foundation, and Fraternity Housing Corporation.

View Theta Openings
The Associate FHC property manager provides oversight of personal property for Fraternity Housing Corporation (FHC) managed properties and storage units, and assists the housing department on projects and requests as needed. 

Essential functions include:


Coordinates the annual wish list process with all FHC chapters.
Collects and organizes newsletter information from all FHC chapters.
Coordinates FHC mail and distributes to property managers as needed including remote staff mail.
Works on special initiatives/projects for all FHC chapters.
Organizes FHC mailings for all chapters joining FHC.
Creates and monitors budgets; authorizes expenditures.
Supervises the maintenance, and management of properties leased within FHC.  
Works directly with colleges or universities on renovation projects, maintenance, etc., for university-owned Theta properties.
Meets with chapter advisors and undergraduate officers to ensure all aspects of the facility are being well maintained. Assists executive director of FHC on special projects or requests as needed.

Competencies:


Ability to work well with people.
Detail-oriented.
Excellent organizational and communication skills. 

Education:


Bachelor's degree required.

Additional eligibility qualifications:

Travel to leased properties as needed. Travel time is 20 percent of the job; travel is throughout the United States. Overnight travel is required.
Position is based in Indianapolis.

Application Instructions: Please complete the application form below.

How to Apply
To be considered for an opening, please complete the form below and include a resume, cover letter, salary expectations, and a list of three references.