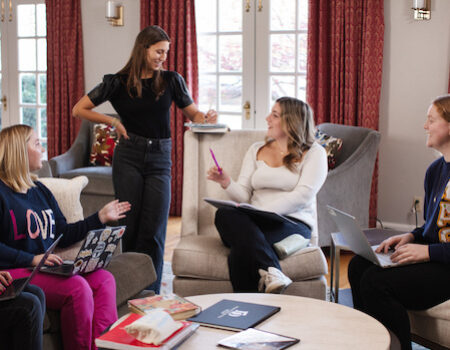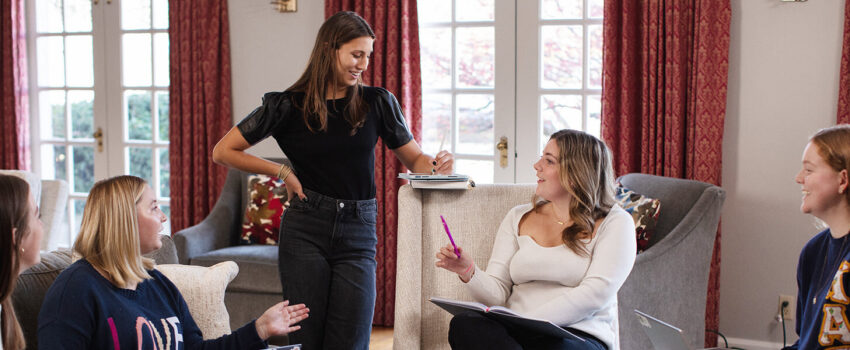 How We Began
Founded in 1870 at Indiana Asbury (now DePauw University) in Greencastle, Ind., Kappa Alpha Theta is the first Greek-letter Fraternity for women, and our founders were among the first women to be admitted to DePauw as full college students. In creating Kappa Alpha Theta, our founders helped lead the way for women's groups and for women in higher education.
Who We Are
Kappa Alpha Theta is known as a leading women's group; our ideas and programs have often been on the cutting edge. "Leader" is not a title conferred or an office held; as individuals and as chapters, Thetas are known for leading in our communities and on our campuses.
The first women admitted to Phi Beta Kappa were Thetas.
Kappa Alpha Theta was the first women's fraternity to establish a chapter in Canada and the first women's Greek organization established at four Ivy League universities (Cornell, Princeton, Yale, and Harvard), as well as at Michigan, Vanderbilt, Baylor, Stanford, and many other schools.
Thetas are known for being leaders—even pioneers—in in all fields of endeavor, from athletics to aerospace, from law to literature, from music to medicine.
Nancy Kassebaum, Kappa/Kansas, was the first woman to chair a major United States Senate committee.
Adelaide MacDonald Sinclair, Sigma/Toronto, was the first female deputy director of the United Nations International Children's Emergency Fund (UNICEF).
Julia Morgan, Omega/UC Berkeley, was the first woman to study architecture at and graduate from the Ecole des Beaux Arts in Paris, then the premier school of architecture in the world, as well as the first woman licensed as an architect in California.
Marie-Claire Kirkland Strover, Beta Psi/McGill, was the first woman elected to the National Assembly of Quebec, the first woman appointed a cabinet minister in Quebec, the first woman appointed acting premier, and the first female judge to serve in the Quebec Provincial Court.
Jean Hanmer Pearson, Eta/Michigan, was among the first women to land in Antarctica in 1969.
Jill Strickland Ruckelshaus, Beta/Indiana was a founding member of the National Woman's Political Caucus.
What We Do
Making a Difference Together
There are many organizations we can join, both as collegians and alumnae. But Kappa Alpha Theta isn't like other organizations. We're different. Our members are different. We aren't afraid to stand out … to be authentic … to make a difference together. It may not always be easy, but it's unwavering, and it's real. We are women supporting women, and we inspire one another to be our best selves.