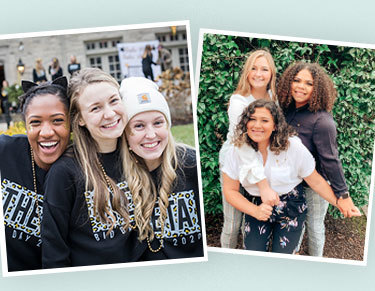 Pansy Patch FAQ
Money raised from Pansy Patch 2020 will benefit the Theta Forever Fund. This fund supports scholastic, educational, and leadership opportunities as well as programming that will enhance existing programs and help fund the future for a more inclusive Theta as guided by the Fraternity's Plan of Aspirations and the inclusion workgroup.
2020 is Theta's sesquicentennial, and Pansy Patch is the perfect opportunity to honor and remember Thetas close to you. Each pansy donation helps Thetas achieve their dreams and reach their fullest potential.

Please share with others that you have given! When members receive pansies, they may feel inspired to honor another sister, and they honor another by sending more pansies. There's no better way to celebrate sisterhood than to pay it forward. You can also inspire others to give by sharing personal stories about the impact of Kappa Alpha Theta on your life and the lives of those close to you. No matter how you share the message, the spirit of Pansy Patch takes hold and quickly, the Pansy Patch blooms bright!
When you purchase a pansy, honorees will receive an email notification with a virtual pansy. Theta members will receive notification to the email on file with Theta headquarters. If you select a member who does not have an email on file with Theta headquarters or who has chosen to opt out of email communication, you will be notified on the donation form. You are welcome to send an email directly to this member if you have her information, but she will not receive an automated email from Theta Foundation. 

Emails come from Kappa Alpha Theta <no-reply@kappaalphatheta.org> with the subject line: "Your virtual pansy awaits." Honorees should check all their folders to be sure the message does not arrive in the "junk" folder.
No! You can purchase an unlimited number of pansies at one time unless you are purchasing a 150 Giving Club Pansy.
Yes, you can make a gift in memory of a deceased loved one, Theta, or friend, but no email notification will be sent.
There are three giving clubs exclusive to Theta's 150th birthday at the $150, $1,500, and $15,000, levels. All 150 Giving Club gifts are directed to the Theta Forever Fund and donors will also have the opportunity to honor a special Theta. 

IN FAITH $150 commemorates your faith in a lifetime of connection for successful women with shared values. 
IN HOPE $1,500 represents gratitude for the hope bestowed in you and the impact Kappa Alpha Theta continues to have on your life.
IN LOVE $15,000 exemplifies Theta love that transcends generations.
Yes! College and alumnae chapters are invited to join individual donors as members of Theta's 150 Giving Clubs. Chapters will also have the opportunity to honor a beloved Theta as part of their 150 Giving Club gifts. 
When making your purchase, you will need to review your order before clicking the Submit and Pay button. Upon clicking this button, you will be directed to PayPal to complete your purchase. After clicking Submit and Pay, please do not at any point click your browser's Back arrow; you will lose your information and will need to start over. Your full list of honorees will be included on your receipt. 

Please keep in mind that the system may take several minutes to process your donation. Do not refresh or navigate away from the page until the confirmation page from PayPal appears on your screen. 
On the donation form, donors can select the college chapter and college/university to receive credit for the number of pansies given.
Yes! All college chapters, whether disestablished or not, will rank in the college chapter standings. 
Yes! You are welcome to make an additional donation at checkout. 
Yes, each time you purchase pansies you will receive an email receipt with the total number of pansies you purchased in that transaction, the dollar amount, and a list of the honorees to whom you sent pansies.

Emails come from Kappa Alpha Theta <no-reply@kappaalphatheta.org> with the subject line: "Thank you for your donation to the Pansy Patch." Donors should check all their folders to be sure the receipt does not arrive in the "junk" folder.
More Questions?
If you still have questions about Pansy Patch, please complete the Contact Us form.