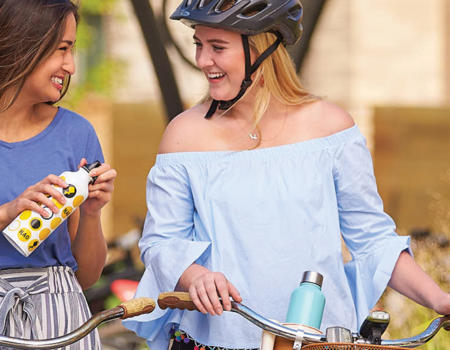 Media Resources
Looking for background information on Kappa Alpha Theta, the first Greek-letter fraternity for women? On this page, you can learn more about who we are, recent media coverage, and how to get in touch with us.
Our website offers numerous other resources:
Who We Are
Kappa Alpha Theta (Theta is the short form) welcomes as members, in accordance with the laws of the Fraternity, college women, without regard to race, religion, national origin, age, disability, or other characteristics protected by applicable law. As some of the earliest women to attend college, Kappa Alpha Theta's founders fought for inclusion in a frequently hostile educational and social environment. Our mission is to offer women lifelong opportunities for intellectual and personal growth. Those who identify as women are eligible for membership in Kappa Alpha Theta.
Kappa Alpha Theta currently comprises 147 college chapters and more than 200 alumnae groups across North America. Membership totals more than 254,000.
Mission
Kappa Alpha Theta nurtures each member, offering lifelong opportunities for intellectual and personal growth.
Vision
Leading every member to personal excellence through lifelong sisterhood.
Winter 2019 Issue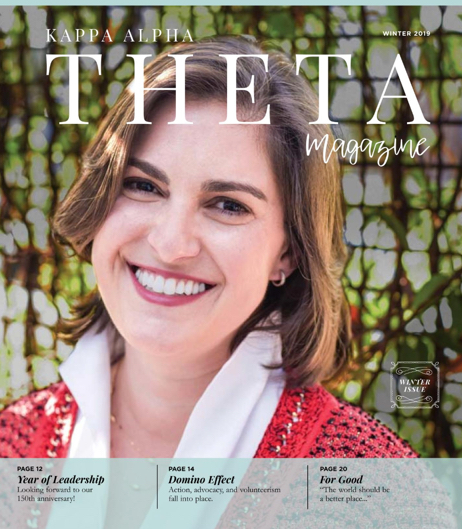 Winter 2019 Issue
First published in 1885, our magazine updates, educates, and entertains readers about Theta and its college and alumnae chapters and serves as an enduring link between the international organization and its members.
Read Our Winter Issue
News
Benefits of Sorority Membership
The Philadelphia Inquirer thoughtfully discusses the benefits of sorority membership and how women can contribute to initiatives designed to improve campus culture.
Read More
Nevertheless, She Persisted
Margaret Dunkle, Chi/Syracuse, who served as the first chairman of the National Coalition for Women and Girls in Education, is one of the trailblazers honored by the National Women's History Project for exemplifying this year's Women's History Month theme of "Nevertheless, She Persisted."
Read More
Get in Touch
For media inquiries, please contact us.