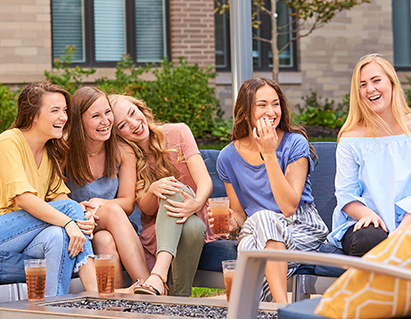 Headquarters
Kappa Alpha Theta headquarters is staffed by approximately 50 women and men who manage administrative aspects of the Fraternity, Theta Foundation and Fraternity Housing Corporation.

History of Theta Headquarters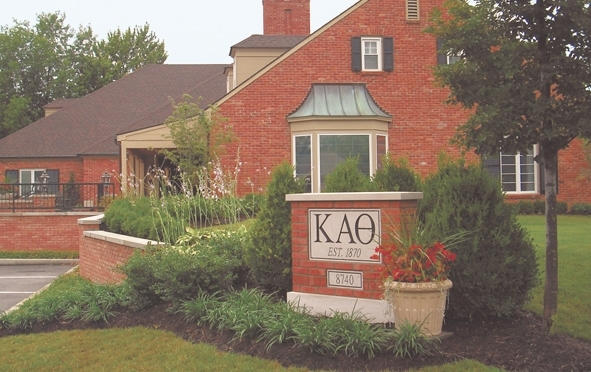 History of Theta Headquarters
The first salaried position established by Kappa Alpha Theta was that of the editor in 1891. In 1909, the editor and grand secretary positions combined. L. Pearle Green, Grand Secretary from 1909 to 1939 and editor from 1911 to 1949, worked out of her sister's home in Ithaca, New York, and for many years this early home office served as the defacto central office of Kappa Alpha Theta. In 1922, Grand Council allocated funds for a central executive office with a secretary, clerical assistant, office rent, and equipment.
A report by efficiency experts in 1938 led to a complete reorganization of the administration of Kappa Alpha Theta, including its central office. Miss Green stepped down from her position as executive secretary in 1939. Helen Sackett become the executive secretary, and Dorathea Jacobs joined her as bookkeeper. The central office was moved to Evanston, Illinois. Between 1939 and 1983, the Evanston office moved three times. Dorothy Vaaler served as executive secretary from 1960 to 1972, Rosemary Nilson from 1972 to 1974, Marge Beebe McAdams from 1974 to 1977, and Nancy Weese from 1977 to 1983.
As early as 1974, Grand Council discussed the possibility of the Fraternity having its own building. Discussion centered on Indianapolis as the possible location for such an office. In 1979, a committee and funds were dedicated to the process. In 1982, ground was broken for the new home, and it was dedicated in 1983. Since coming to Indianapolis, there have been two executive directors, Marcia Bond, 1983 to 1997 and Elizabeth Sierk Corridan, 1997-2015. Corridan was named chief executive officer in December 2015. Headquarters expanded into a second building, next door to the 8740 building, in 2015. The CEO, Theta Foundation, and several other departments along with expanded meeting spaces are housed in the building at 3330 Founders Rd.
Fraternity Financial Statements
Contact Us
Schedule a visit or a tour. We recommend at least two weeks' notice.