2017-2018 Grant & Scholarship Recipients Announced
08/27/2018
Kappa Alpha Theta Foundation is pleased and proud to announce the college and alumnae members who received grants and scholarships during the 2017-2018 fiscal year.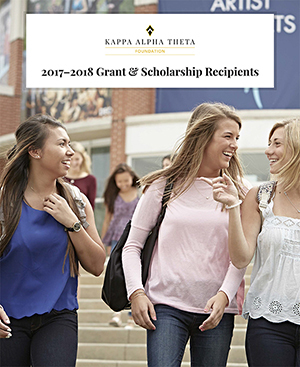 We are thrilled to continue our long-standing tradition of supporting Thetas in their educational endeavors by awarding grants totaling more than $32,000 to 37 college and alumnae members to participate in non-degree educational, leadership, and service-learning programs. These experiential learning opportunities are helping Thetas make a difference on their campuses and in their communities.

We are also excited to announce that $757,620 in scholarship support was awarded to 352 collegians and alumnae for the 2018-2019 academic year. Established by individuals and college and alumnae chapters with an unwavering belief in the potential of Theta women, Theta Foundation scholarships stand as a testament to the support the bonds of sisterhood can provide throughout life's endeavors.
It is an honor to help our Theta sisters to learn, grow, and be part of something larger than themselves. We invite you to join us in congratulating these remarkable women on their incredible accomplishments.