4 Ways to Give Back Over Winter Break
12/16/2016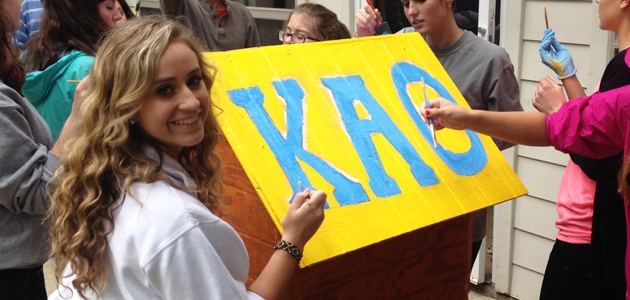 As the semester comes to a close and you head home for the holidays, you deserve to catch up on some rest. But, if you're anything like me, you may end up feeling a little bored and unfulfilled over this long break. If you find yourself in this situation, I have the perfect remedy: service! The drastic increase in your free time and the giving spirit of the holiday season make winter break the perfect time to give back to your community.
Here's a list of four easy (and inexpensive) ways you can participate in service this winter break, and beyond!
1. Donate your time. Giving your time in service of others is the most direct way to make an impact. Over the winter season, organizations that serve underprivileged populations such as food banks and soup kitchens are always in need of extra help. Additionally, CASA and GAL programs across the nation have holiday parties for the children they serve and love to have Theta volunteers assist with these. I have helped at a few CASA holiday parties and loved having the opportunity to pass out gifts to the children and meet their awesome CASA volunteers. Contact your local CASA or GAL program to see if they will be having any events this season you can help with!
2. Do some "winter cleaning." As you do your holiday packing, if you realize your closet is filled with things you no longer wear, do some "winter cleaning!" Donate items you no longer use to an organization that can distribute them to those in need, such as Goodwill, the Big Brothers Big Sisters Foundation, and the Salvation Army. There are also programs that collect specific items, such as Dress for Success, where you can donate business clothing to help disadvantaged women entering the workforce, and Soles4Souls, which distributes donated shoes to those living in poverty across the globe. Take some time to help those in need and give your closet a refresh this winter break!
3. Raise funds and your heart rate! Over the holidays, participate in fun charity runs to burn calories from yummy holiday treats while also raising money and awareness for wonderful causes. Use websites such as RunnersWorld.com or Active.com to find charity runs near you. A nationwide winter charity race that is close to my heart is the Polar Plunge, which supports Special Olympics. The Polar Plunge typically involves a 5k and an event where runners jump into water during the cold winter weather. Look for a Polar Plunge event in your city!
4. Send holiday cards. A simple way to serve others during this season is to send cards to those who cannot be with family and friends over the holidays. For example, you could send cards to military personnel, residents of senior living centers, or people in the hospital. Thoughtful, handmade cards with sweet, encouraging messages are the perfect way to put a smile on someone's face! These cards could be just what the recipient needs to feel loved and appreciated during the holiday season.
I hope this list helps you realize how easy and fun it can be to give back over winter break. Even things as simple as paying for a stranger's hot cocoa or baking cookies for a neighbor can improve their day and yours. As Leading Women of Kappa Alpha Theta, I challenge you to participate in meaningful service activities this holiday season—and throughout the year!
---
This blog post is part of the Scholar Blogger series, showcasing four of Theta's leading women who are sharing their experiences, insight, and advice on topics relevant to all students. Learn more about the Scholar Blogger series and this year's bloggers here.