5 Helpful Hints for Applying to Grad School
10/14/2016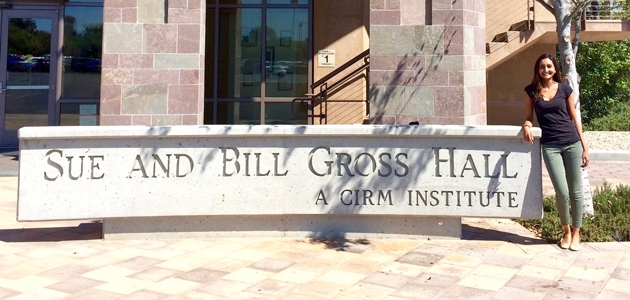 You survived undergrad and may even have a few years of post-grad work experience under your belt. Now, you're thinking about graduate school. Congratulations! This is a wonderful (and maybe even a little bit scary) decision that will help you on your way to your dream career! Whether it be a master's program, a PhD, law school, med school, or pharmacy school that you're after, you're probably inundated with application details about personal statements, GPA requirements, deadlines, and all the other information that comes with applying to grad school. It can be enough to overwhelm anyone, but as you prepare to take this next step in life, here are a few tips I've learned to help your application process go as smoothly as possible.
1. Start early! Once the idea is in your head, you should spend a few months researching all potential schools and programs that interest you. Get familiar with the nuances between them: What do you like about each program? Do any of them have a specialized track for a field in which you're interested? What locations would you be willing to move to for the duration of the program? What's within your budget for tuition? Which schools offer scholarships, fellowships, or other funding for students? These are all questions you should be thinking about, and having sufficient time to plan out your schedule and budget for the time-consuming and expensive applications (plus potential trips across the country for interviews) will help you stay laser-focused on your goals.
2. Stay organized! The next step to acing your applications is to stay organized. I found that creating a "master" spreadsheet with all your potential programs' information is the easiest way to do this. Create a workbook with the far left column for school/program name, ordered by deadline dates. Next, fill in subsequent columns with the respective details: the number of recommendations required, how many statements you need to write, which standardized test scores you have to submit, whether or not on-site interviews are necessary, and any other specialized information the programs require. Make sure you follow directions impeccably—know all the word limits, deadline dates, and addresses to send your transcripts and test scores to. Staying on top of this is critical to your success in this process.
3. Get feedback on your statements. The personal statement is where you can really shine. You can show your prospective grad school programs how you got to where you are, and what you want to do when you start school. However, like any other piece of writing, editing is always necessary to clean it up and shave it down. This can be one of the most daunting aspects of your application because there's nothing more disheartening than feeling like you've created a masterpiece only to have it ripped apart by someone else. Don't get discouraged! This is part of the process, and having an extra set (or sets) of eyes on your statements will help you catch mistakes and maybe even improve your phrasing. Make sure you choose someone you trust to look over your statements. This person should ideally be able to give you valuable and unbiased feedback and should also be able to help you smooth out any grammatical errors. There are often strict word limits on personal statements, so you have limited space to make a good impression. Having a mentor, friend, or professor provide feedback on your drafts can help you create the best possible versions for submission.
4. Choose the right references! The people who write your letters of recommendation are almost as important as the content of the letters themselves. If there is a professor, boss, or mentor who you think would be willing to write a reference for you, make sure to contact them and ask whether they'd be able and willing to write a positive recommendation. Usually, these references will be honest with you and let you know if they feel they do not know you well enough to write a strong, positive letter of recommendation. Additionally, make sure you do not become one of those unfortunate students with a horror story about how your reference forgot to submit your letter of recommendation. The easiest way to avoid this is to contact them early. Make sure they know the deadline, and send them gentle reminders as the deadline approaches.
5. Don't stress over your standardized testing scores! GRE, GMAT, DAT, LSAT, MCAT. These tests can be some of the most stressful exams of your life and might even feel like they will make or break your admission to grad school. Of course they are important and can definitely help your application stand out, but they do not count for everything! Although programs always look for students who perform well on these tests, they don't judge you solely on standardized testing scores. With a solid academic record and valuable experience in your field of interest, you can be a well-rounded applicant.
BONUS HINT! Make a personal connection. Don't be afraid to reach out to a faculty member at a school with a program you're interested in! This demonstrates your passion for this particular program and subject matter, and allows the faculty to get familiar with your name. Plus, most program offices welcome questions from prospective students, so be sure to make that connection!
Best of luck in your application process!
---
When planning for grad school, don't forget about the resources available through Theta Foundation! Kappa Alpha Theta Foundation is proud to support members pursuing graduate study through our scholarship program. For more information about when the scholarship application for the 2017-18 Academic Year will become available, please visit Theta Foundation's Apply Now page.