5 Tips to "Spring" Into Action!
03/15/2017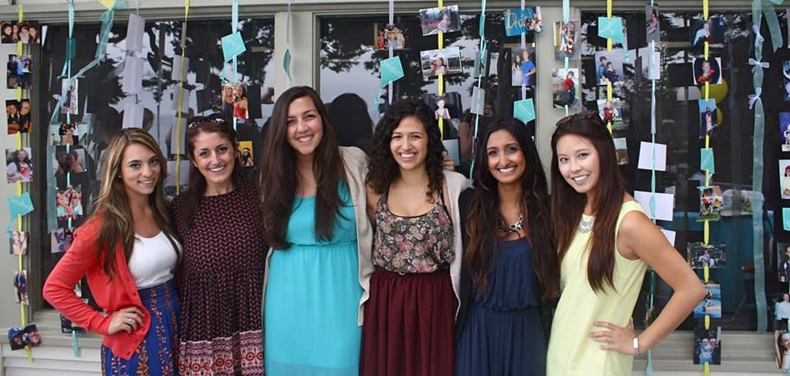 The new year marks the perfect time to reflect on your personal obstacles and growth in the past year. With this fresh start and reignited sense of determination, it's also a wonderful time to start thinking about your next steps after undergrad (if you're graduating in the spring), your college path or a summer internship (if you've still got a few years before graduation), or your general professional development (if your career path is set)! It is really never too early to start thinking about your academic and professional growth! If you're lucky enough to already have a stellar job, it never hurts to use this opportunity to expand your network because you never know when you'll be in the market for a functional career change down the road!
Personally, I have struggled with feeling stagnant and overwhelmed by my career path a few times throughout my life – once in undergrad when I wanted to switch majors, and again in my post-grad job when I wanted to switch industries altogether. The steps I've outlined in this blog post helped me through both of these stressful, yet rewarding, periods in my life. I was able to turn the daunting feeling that I wasn't doing what I loved into a fun exercise that expanded my network and social group. If you ever find yourself thinking about a major or career change but feel like you have no idea where to start, here are a few tips that might help:
1. Be patient.
The first and most important step when evaluating whether you are where you want to be academically or professionally is to be patient with yourself. If you feel like you have not found your calling in life and are disappointed or overwhelmed by this thought, don't worry! You are certainly not alone in feeling this way. Many people go through multiple different functional roles to figure out what they DON'T want to do before finally figuring out what they DO want to do. It's all a learning process. If you try to look at it as a growing experience at every step, it'll greatly reduce your stress levels.
2. Identify your target.
The next step is to identify your target job or internship role and in what industry you'd like to work. If you really have no idea, start broad and then narrow your scope. For instance, do you like the broad subject of business? Within business, what functional roles could you see yourself enjoying? Maybe marketing? Sales? HR? If you like numbers and spreadsheets, perhaps finance? Write them all down and look up job descriptions to start narrowing down what you might or might not enjoy.
This step was critical for me to figure out what I wanted to do with my career. My undergraduate degree was in Environmental Systems Biology and I was so lucky to have gainful employment right out of college. I had only ever worked in climate change research and the renewable energy field, but after my first job I started to realize those fields were not bringing me the level of satisfaction I wanted. I decided I wanted to make a change. I knew I wanted to make a positive impact on the world and that I wanted to use science to do so. I had always had a knack for genetics in school, and so I thought I'd look into the biotechnology sphere and maybe at companies focused on developing genetic tests. I ended up getting my next job at one of these genetic testing companies and LOVED it. However, I would never have gotten to that point if I hadn't identified what I didn't want to do first.
3. Start a conversation.
After you've narrowed your scope of functional role or industry, it's time to start talking to people! Talk to your friends, your professors, or to a career counselor. Chances are, someone you know will be connected to someone else working within your industry of interest, if not your dream role! If you cannot find anyone through your existing connections, search LinkedIn! Send messages to people at target companies in specific roles and ask if you can conduct informational interviews. Most people love to give advice and talk about their professional history so they'll likely be willing to schedule a 15-minute phone call or meet over coffee. If not, come up with a few concise questions and see if they'd be willing to answer them via email.
4. Ask questions!
Don't be afraid to ask! This is your opportunity to get some unfiltered insight into what that job/internship/industry might really be like. Ask them such things as what a day in the life at their job/company is like. What do they have to say about their company culture? Are they able to maintain work-life balance in this particular role? If they could go back in time to where you are, would they do anything differently? Do they have any advice for someone who might be looking to start a career in that field (or switch to it from another field)?
5. Keep a record.
The most crucial step is to stay organized and document all your contacts in your expanding network. I like to use a document like the one below because it helps me remember the important takeaway points of the conversation and really helps me gauge whether it's a role/industry I'd be interested in.
If you are graduating in the spring, you may not be feeling the heat to find a job or plan your post-grad life just yet, but starting now will help you set the stage for a smooth transition into the professional world. For those of you who have no clue what you want to do after graduation day, don't worry! These steps helped me figure out what I wanted out of my career, and some of my contacts on my networking list ended up turning into lifelong friends. You never know what advice you'll get, so just remember that it never hurts to ask!
---
If pursuing a degree is in your plans for next year, don't forget about the resources available through Theta Foundation! Kappa Alpha Theta Foundation is proud to support members pursuing both undergraduate and graduate study through our scholarship program. For more information about the application process for scholarships the 2017-18 Academic Year, please visit Theta Foundation's Apply Now page.