My college experience has been characterized by many avenues of growth. Some were expected, like finally learning more through my Biology/Pre-Med major than just that the mitochondria is the powerhouse of the cell (but honestly, that's basically it). Other avenues, though, have been unexpected, and to me, these unanticipated paths are the best kind and so many have been found through Theta.

I joined Kappa Alpha Theta as a nervous but excited freshman. Having high school leadership experience, I took on chapter positions early and quickly loved my new roles and duties. While these positions were valuable, it turned out that I learned far more about myself and leadership from my junior year, during which I did not hold any Theta offices. Though initially disheartened by not having a title, I realized there was still so much to learn … just in a different way than I expected. By discovering that what I want may not always be what Theta needs, I was able to see once-hidden opportunities to contribute, support others, and develop new strengths. This mindset has since served me well and has been invaluable to my ability to lead Gamma Tau as our current chief executive officer.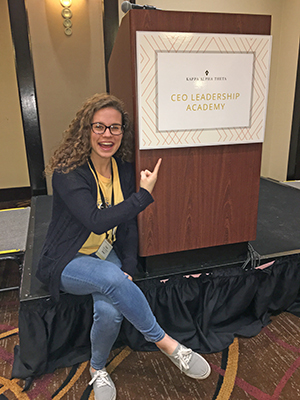 Theta is also a driving force in my development outside our chapter. From giving me simple study tips to convincing me to chase new passions that have changed my life's trajectory, my sisters' support has unparalleled significance to me. While midnight chats, silly jokes, and snack runs may not seem important, the deep bonds they formed have given me friends who celebrate my highs and travel with me through my lows. I have gained not only a college family that loves me well, but one that encourages me to become all I can be … and isn't that what leadership (and life and love, for that matter) is really all about?
My college experience has been all I expected—and so much more—and I owe much of this to Theta. By learning to see the unexpected as an exciting new path and by having companions who will walk that path with me, I have laid a strong foundation that will support me as I face new challenges. This isn't just a love letter to Theta (although I could write one of those, too); it is a reminder that if you look for new opportunities, you will find them, and with the right leading women by your side, they just might turn into your most meaningful avenues of growth.
---
This blog is part of a series of posts from Theta Foundation's most recent Founders Memorial Scholarship recipients. The Founders Memorial Scholarships are awarded to four outstanding junior applicants every year. These scholarships are Theta Foundation's most prestigious awards, valued at $12,000 each. The recipients are purposefully matched to a specific founder based on their shared qualities.

Claire received the 2019 Bettie Locke Hamilton Founders Memorial Scholarship as a result of her outstanding leadership and commitment to excellence. Her story embodies Bettie's greatest hope - that the Theta experience will live on forever. You can help ensure the same opportunities are afforded to Thetas for generations to come by supporting Theta Foundation with a gift on #GivingTuesday, December 3, 2019.