Theta Foundation is thrilled to announce the first ever college chapter giving program: Theta for Good! This new program allows Kappa Alpha Theta's college chapters to support more of the meaningful organizations they are passionate about, many in their own local communities.
Through extensive research and focus groups, Theta Foundation determined college chapters were seeking an opportunity to support other causes. Theta for Good empowers chapters to cultivate their philanthropic priorities and exercise the widest influence for good. We know our college chapters are doing so much good in their communities already and excited for this formal program with a wider philanthropic reach to recognize their hard work. Best of all, Theta for Good will streamline the fundraising process for college chapters enabling them to focus more on doing good within their community.
In fall 2021, seven college chapters participated in a pilot program that led to the fall 2022 formal launch of the program. The pilot chapters offered invaluable feedback on the program and helped develop resources to make the launch a success. Virtual training sessions were held throughout the summer for officers and advisors, and robust resources to support this program launch were shared with every college chapter to support the rollout with their college chapter in the fall. Each college chapter will also be receiving a Theta for Good PR package and we look forward to sharing their efforts via Theta's social media channels as Theta for Good events begin.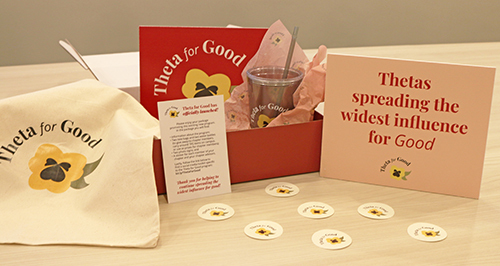 Here is how Theta for Good works: Chapters donate their proceeds from their fundraising event directly to Kappa Alpha Theta through Billhighway. Chapters designate at least 25% to Theta Foundation and can decide where the remaining 75% will go. It can be designated to one of the following organizations:
The National CASA/GAL Association for Children;
A local chapter of CASA/GAL; or
Organizations that support children who have experienced abuse or neglect, or otherwise support the health and welfare of children.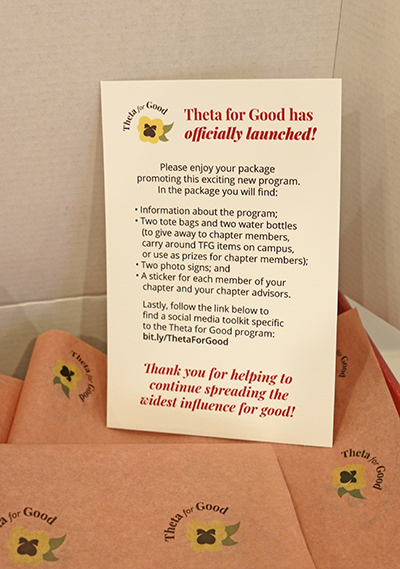 The portion of the gifts made through Theta for Good that benefit Theta Foundation are directed to the Theta Forever Fund. The Theta Forever Fund supports Theta's educational, leadership and philanthropic pursuits, including the Emerging Leaders Institute (ELI), leadership programs, mental health and wellness, college officer leadership, and the Fraternity Grant. Gifts made to the Theta Forever Fund bridge the gap between educational expenses and the memories Thetas make on campuses and in their college chapters, all while ensuring the Theta experience is here for generations to come. To learn more about the Theta for Good Program, visit the Theta for Good page on the Theta website.