Halloween is a fun and exciting time of the year. Friends get together to celebrate with festive decorations, lots of candy, and of course, dress up in costumes. Halloween costumes are an opportunity to be creative, but it is important to be intentional about a costume choice. Walk into any costume store, and you are bombarded with hyper-sexualized costumes that are anything but creative and do not support the image of authentic women that we value as members of Kappa Alpha Theta.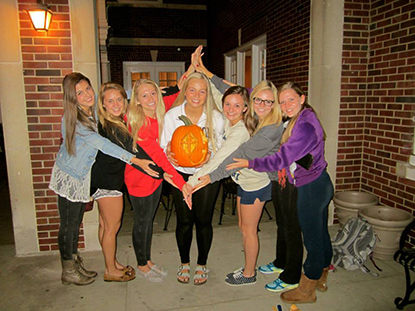 Here are three costume ideas that are easy to make and celebrate strong, inspiring women!
Hermione Granger: Hermione Granger, the leading woman of the Harry Potter series, is academically excellent, compassionate, and a fiercely loyal friend. Grab an Oxford shirt, pullover sweater, skirt and tights, and a small stick for your wand.
Team of Suffragettes: Looking for a group costume to wear with your Theta sisters? Head to your local thrift store and find some maxi skirts to pair with white, collared shirts. Add homemade sashes with "Votes for Women," and you'll be ready to go. If your group is really feeling creative, you can even make some picketing signs. Nothing says women's empowerment more than celebrating the ladies who fought for our fundamental voting rights!
Ruth Bader Ginsburg: Justice Ginsburg is the second woman ever appointed to the U.S. Supreme Court. Breaking countless legal and professional barriers for women, she is the perfect example of an empowered woman. All you need for this costume is an old graduation gown, white scarf, eyeglasses, and professional shoes. Throw your hair into a bun, and you will look as judicial as Justice Ginsburg.
We would love to see your final costume! Post your image on social media, and use the hashtag #ThetaHalloween to show off which leading woman you chose this Halloween.