As a college student aspiring for a career in politics and law, I was ecstatic and honored to have the opportunity to represent Kappa Alpha Theta at this year's Fraternal Government Relations Coalition (FGRC) Capitol Hill Visit. I am currently finishing my senior year at Tufts University double majoring in political science and education, and next year, I will be obtaining a master's degree in education policy at the University of Pennsylvania. I have been actively involved in my chapter, Eta Psi, throughout my entire time at Tufts, and last year, I was grateful to serve as chapter president (I represented my chapter at Grand Convention!). In addition to my involvement with Theta, I have been active in many different organizations both on and off campus, including representing in our student government, interning at a law firm, and being a devoted teacher at different programs for the last nine summers and last four school years.
I am extremely passionate about advocating for policies that support students on their educational journeys and making school an equitable environment for all. Therefore, I hope to pursue a career in Washington, D.C., in policy work to pursue these goals. When I first learned about the opportunity to lobby for the FGRC, I knew it was a once in a lifetime opportunity to gain first-hand experience of working on Capitol Hill and advocating for policies I care about. Being a part of Theta was an instrumental part of my college experience, and I knew I wanted to take advantage of this opportunity to share not only how much of a positive impact Theta had on me, but also to push for needed change that would improve the sorority experience for generations to come.
During my time in Washington, D.C, I learned more about the policy process and the skills needed to be successful in the field, as well as more about the issues facing fraternity/sorority life today. I was honored to listen to fraternity and sorority alumni who currently hold seats in U.S. Congress speak; I was especially inspired by Theta alumnae Rep. Beth Van Duyne, Iota/Cornell, and Rep. Lori Chavez-DeRemer, Gamma Chi/Fresno State, who I was able to meet personally.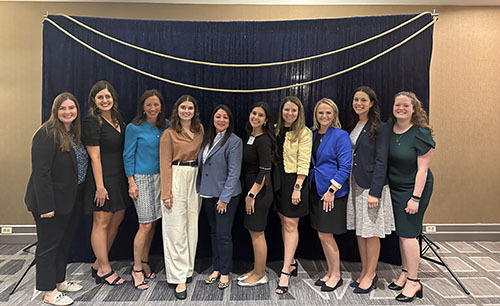 I am incredibly grateful to have represented Theta and the FGRC, and I was honored to work with such distinguished and inspiring college and alumnae representatives from Theta and other organizations. I am confident that I will take everything I learned with me as I continue forward on my career path.