It's so important that we recognize and practice Theta's relevance to real life every day. Much of the Winter 2019 Theta Magazine's focus showcases our sisterhood and experiences in just that way.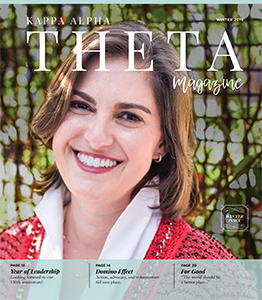 We cover a range of topics under that umbrella from celebrating 2019 as Theta's Year of Leadership representing founder Bettie Locke Hamilton's fight for justice, equity, and fairness for women; to Beta Gamma/Colorado State alumna Lisa Luckett's personal journey through tragedy toward strength and resilience.
The winter issue is scheduled to mail this week, and you might be holding it in your hands right now! As always, you can read this current issue and past issues on the magazine page of this website.