Grand Convention 2018: Thoughts from the Archives Intern
08/20/2018
This summer I've spent my time at Theta headquarters with the wonderful and talented Noraleen Young, staff archivist. As her intern, I've learned an incredible amount about the founders and rich history of Theta. Before my internship, I already understood some of Theta's history: Because I'm a member of Alpha Chapter at DePauw University, I knew about Bettie, Alice, Bettie, and Hannah. But I did not fully appreciate what those four strong women had founded until I attended my first Grand Convention.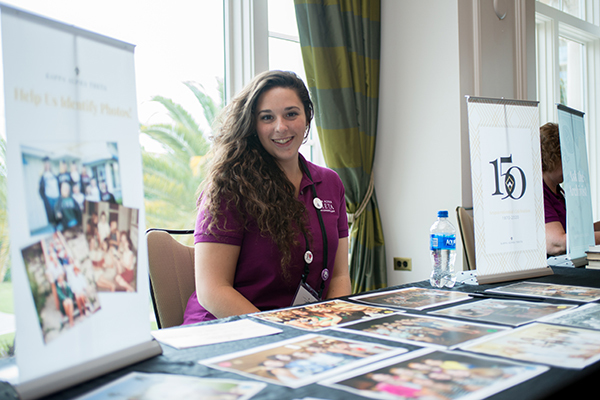 At Convention, I saw hundreds of unique and vibrant women come together to celebrate our sisterhood. I was lucky enough to meet and talk to many of these women as they stopped by the archives booth. Although they typically weren't long conversations, the women I talked to amazed me with their confidence and light. I genuinely enjoyed meeting and talking to everyone, so thank you for adventuring over to the archives booth if that was you! Every conversation I had made me appreciate the women of this organization more and more. I was also so impressed by the speakers, Carrie Hammer and Tara Storch, in their ability to command a room and share their inspiring messages. Both women have remarkable stories and made me realize the impact and power Thetas have in the world.
I couldn't help but think about the founders at Convention and how impressed they would have been with what their organization has become. I'm always amazed when I think of how brave they were in 1870 to not only be among the first women to attend a previously all-male college, but to start an organization for women on that very campus. Theta was founded by empowered women, and as I looked around the ballroom during the Convention banquet, I saw a room full of empowered women. I know our founders would be unbelievably proud of the Theta women I got the chance to meet and converse with at the 2018 Grand Convention—I know I was.