Theta Websites Over the Years
05/28/2018
It has been an exciting time around Theta headquarters with the launch of the new Theta website! As staff archivist, one of my important tasks is not only documenting and preserving the "old stuff" but also maintaining Theta's digital history. So the debut of the new website got me thinking about the history of Theta on the web.
Historians trace the beginning of the world wide web or Internet back to the early 1980s, and it continued to be developed by universities and scientific organizations through the mid-1990s. By 1995, many recognized the possibilities a web presence could also create for businesses and non-educational or non-scientific organizations.
In tune with the times, attendees at the 1995 Leadership Conference requested that Theta look into establishing a website. Going live in fall 1996, Theta's first site address was www.thetahq.org (you can visit it via the Internet Archive Wayback Machine). Clicking on the opening screen brought up some basic links to information about Theta, lists of chapters, news, Theta merchandise, and educational opportunities. Netscape, one of the earliest browsers, was recommended for viewing the site.
By 1997, our site had moved to www.kappaalphatheta.org and continued to expand, helping members do their Theta work and connect to the Fraternity. Housing and Theta Foundation's sites appeared by 2007. Over the years, the "look" of our website was frequently updated. Check this out from 2008.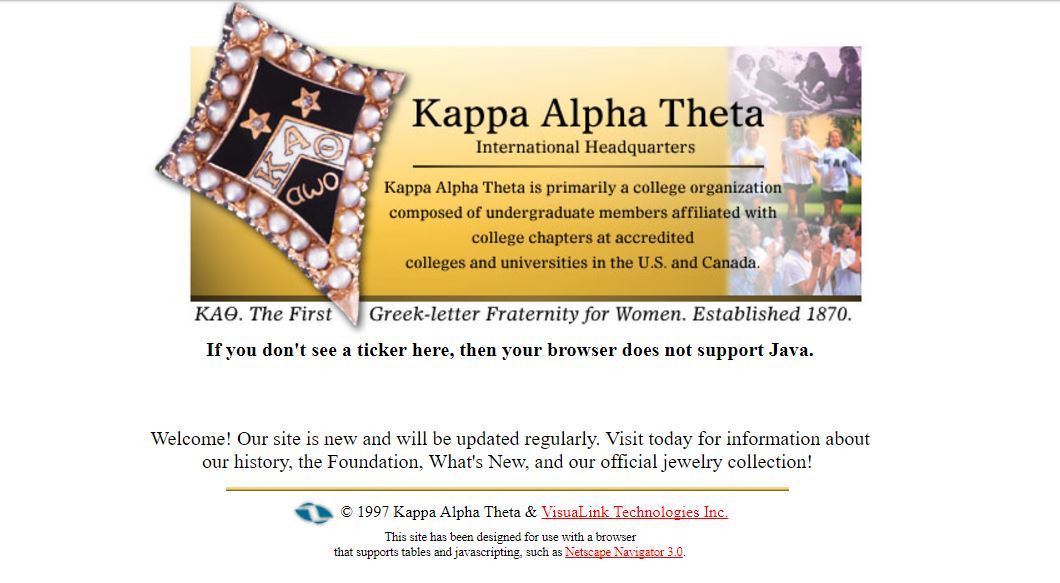 Over time, the appearance of Theta's website has often changed, but it has always sought to provide information for our members and for those who want to learn about Theta. Like our previous sites, our new website remains continues to fulfill that goal.