On July 11, 2023, Kappa Alpha Theta Fraternity Housing Corporation (FHC) facility directors from across the country traveled to Atlanta for the second Facility Director Conference. Hosted by the FHC property manager team, the conference was held at the Theta Nu Chapter facility at Georgia Institute of Technology. The conference schedule included educational training sessions, sessions that focused on personal development, an opportunity for a fun outing, and amazing meal service provided by our food service partner, Uppercrust.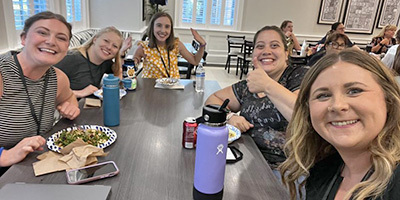 Upon arriving in Atlanta on Tuesday evening, facility directors were provided with an overview of the conference schedule and a chance to connect with other facility directors over some social activities. On Wednesday, they experienced sessions ranging from how to work with your chapter leadership, kitchen safety, creating a healthy work-life balance, and exploring the Enneagram with a presentation by FHC Executive Director Teresa Smith. After sessions wrapped up on Tuesday afternoon, facility directors were given the evening to themselves, and many used the opportunity to get to know each other and explore Atlanta!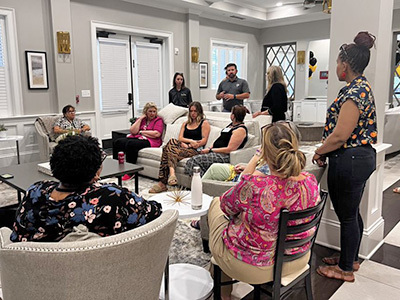 Thursday morning, we went on excursions. Facility directors could choose to either go to the Georgia Aquarium or take a historical trolly tour of the city. This was another great chance for the facility directors to connect with their colleagues in a fun and informal setting while exploring Atlanta. On Thursday afternoon, the schedule continued with a variety of sessions. Assistant Director for Health and Wellness for Delta Gamma Kollin Fitzpatrick presented virtually to the group on balancing leadership and self-care, then facility directors reviewed how to conduct their house opening meetings and played an educational game focusing on how certain responsibilities are handled in the facility. After dinner on Thursday night, facility directors were able to pack, relax, and continue bonding with each other before departing on Friday.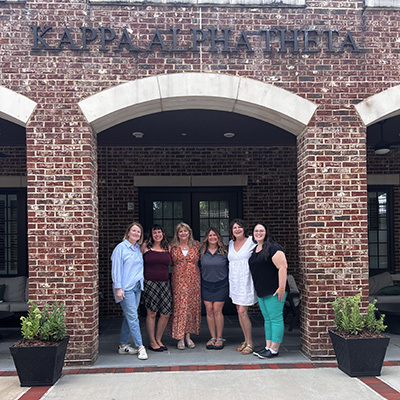 Overall, the conference provided a great opportunity for in-person connections, team bonding, training, and education. The FHC team truly enjoyed this experience, and we look forward to hosting another facility director conference in the future!