This past year has been a whirlwind, but during it all, the Fraternity Housing Corporation (FHC) finished up its final new build at the University of Kentucky!
When you walk up to the front door, you are welcomed by our badge and custom kite doors. These black doors stand out beautifully against the limestone and red brick on the façade of the house. As you enter the house, you are greeted by a grand foyer that is full of "Thetaful" details throughout like the black and white checkered floors, railings with kites, and gold light fixtures.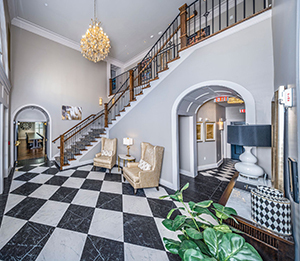 The living room invites you in to sit down with friends with its pops of color and stunning hardwood-like tile floors. The fireplace and built-ins are focal points in the room, but the large rounded sectional is a close second.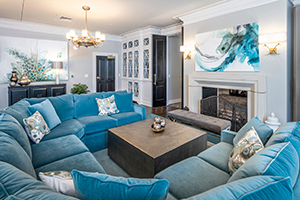 If you head upstairs, you will run into the group study room where there are plenty of tables and chairs to get cozy upon with a good book or meet with a study group to put together a project.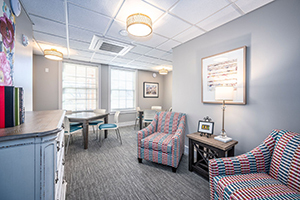 The TV lounge brings a welcoming relaxed feel to the house. It boasts plenty of Kentucky blue and a large sectional to hang out and watch your favorite TV show with your friends.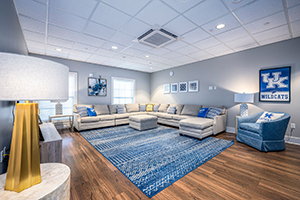 There are a couple of outdoor spaces on the property that have comfortable seating and a pergola to help shield some of the sun's rays.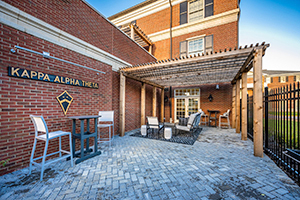 The bedrooms are spaces that members can really make their own by adding décor, rugs, pillows, picture frames, and more. The built-in bed area really gives a warm, inviting feeling to the room.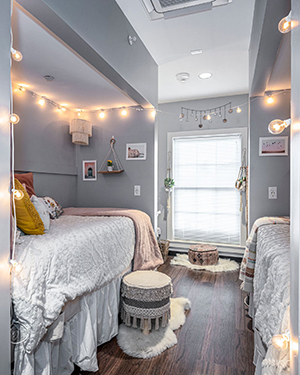 While each space in the house is unique, it all flows together so nicely to evoke cohesive and homey feelings. We hope you love it as much as we do.