Over the summer of 2019, the Fraternity Housing Corporation (FHC) opened the doors to the brand-new Theta Nu chapter house at Georgia Tech, the first Theta house on campus. The open house took place during homecoming weekend to welcome all.
Located just off the Atlanta highway, the house site was very difficult to work with for the FHC design team, but very rewarding. The three-story, 14,400 square foot shotgun-style home overlooks the city skyline and is very visible from the highway and the 5th Street Bridge. However, it offers much more than just a spectacular view!
On the inside of the house, the interior designer focused on the entryway making members immediately feel at home when they walk through the front doors.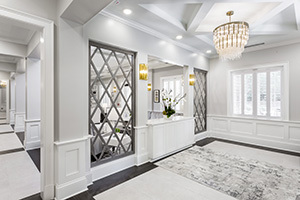 While the entire house has hidden kite shapes all over, the entry is prominent in the large kite-shaped panels and deep Theta colors that draw the eye. Gorgeous, modern yet elegant textures, patterns and finishes bring the Atlanta city metro vibe into the spaces throughout.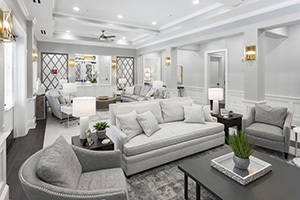 The interior designer added geometric elements and subtle art to give homage to the large engineering population that Georgia Tech University houses.