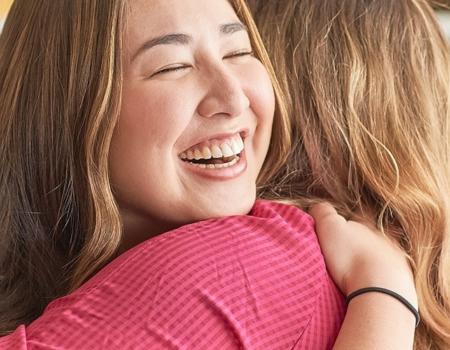 Day of Service
Kappa Alpha Theta's Day of Service is Oct. 19. Since its inception in 2009, the International Day of Service brings Theta collegians and alumnae together in service in honor of founder Bettie Locke Hamilton on her birthday.
One of Kappa Alpha Theta's three aims is to exercise the widest influence for good. Kappa Alpha Theta aspires to cultivate philanthropists who demonstrate tangible works to seek positive change in their communities. Kappa Alpha Theta categorizes philanthropy in three areas:
Service, focusing on hands-on volunteering for others;
Fundraising, or collecting monetary or in-kind donations for causes close to our hearts;
Advocacy, or championing a cause through public support, education, and awareness.
Even if you aren't able to participate with your chapter, you can participate individually. No act of service is too small! Imagine the impact Thetas can have, if we all give just a little bit of our time to serve those in need.
Follow Us on Social Media
Use the #ThetaDayofService hashtag to follow along or share your Day of Service ideas!
Ideas for Participating in Day of Service
A few examples of Day of Service activities include:
Coming together to make blankets for children and babies in foster care,
Organizing and/or serving meals to the homeless,
Donating time to work (not just attend) a philanthropic event for an outside organization,
Having a read-a-thon where members take turns reading to children or the elderly,
Collecting litter (and disposing of it) on the beaches or roads of a designated stretch of land,
Gathering together to create care packages for a specific demographic,
Organizing and running a clothing drive for a specific demographic,
Planting trees, flowers or plants for an organization or community plot of land,
Writing thank-you letters to veterans and soldiers as a group, or
Teaching an art class or having a sing-a-long with residents of an assisted living or nursing home.
Contact Us
Let us know if you have suggestions or questions on how to volunteer on Oct. 19.