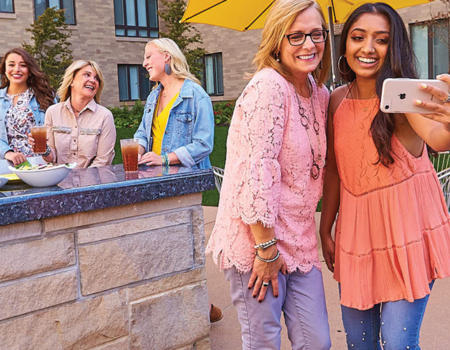 Events
Kappa Alpha Theta is proud to offer many opportunities for leadership development, service, networking, and lifelong learning to both collegians and alumnae.
Founders Day
All alumnae and college chapters are required to participate in a Founders Day event to celebrate and honor Kappa Alpha Theta's four founders.
Founders Day
Grand Convention
Mark your calendars for July 8 - 12, 2020! Our sesquicentennial Convention will be held at the JW Marriott Indianapolis, just down the road from where it all began … in Greencastle, Ind., on Jan. 27, 1870.
Grand Convention
Day of Service
The International Day of Service brings Theta collegians and alumnae together in service in honor of founder Bettie Locke Hamilton on her birthday.
Day of Service
Leadership Academy
The Leadership Academy will provide leadership education and development to elected officers.
Leadership Academy
Emerging Leaders Institute
The Emerging Leaders Institute provides leadership education and development to undergraduate members, with an emphasis on emerging leaders.