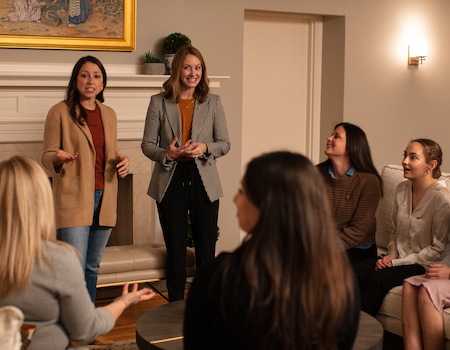 Apply for Scholarships & Grants
This page is your gateway to apply for Theta Foundation scholarship and grant funding. Here you can find all the resources you need to successfully complete applications.
Scholarships
Kappa Alpha Theta Foundation is proud to support Theta collegians and alumnae with merit-based and need-based scholarships for undergraduate and graduate study. The minimum scholarship award is $1,000, and funding is awarded for use during the following academic year toward tuition, course-related fees, and required textbooks and supplies.
Theta membership dues are not an eligible academic expense.
Apply for Scholarships
The deadline for the 2023 Scholarship Application (for scholarships to be awarded for the 2023-2024 academic year) is Wednesday, March 1, 2023 at 6 p.m. Eastern Standard Time. Review the following resources for complete instructions and requirements:

2023 Scholarship Application - Redirects to the SmarterSelect online application system

2023 Scholarship Application Guide - Required reading for all applicants

Frequently Asked Questions and answers about Theta Foundation scholarships
In addition to general eligibility guidelines, many scholarships are designated for candidates with certain qualifications. Available scholarships and criteria are outlined in the A-Z Scholarship Listing. Applicants do not have to apply separately for each individual scholarship and will be considered for any scholarships for which they qualify after submitting the 2023 Scholarship Application.
Chapter & Individual Grants
College and alumnae chapters and individual Thetas are eligible to apply for Theta Foundation grants for non-degree educational, leadership, and service-learning opportunities. Applications are available year-round and grants are awarded on a quarterly schedule throughout the fiscal year (July 1-June 30).
Due to IRS regulations, as a charitable, tax-deductible organization, Theta Foundation cannot grant any funding solely for Theta-specific benefit, including membership dues.
Ask Us About Applying for Scholarships & Grants
Have questions about applying for Theta Foundation scholarships or grants?