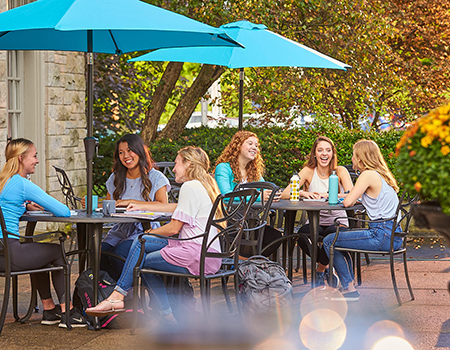 Apply for Scholarships & Grants
This page is your gateway to apply for Theta Foundation scholarship and grant funding. Here you can find all the resources you need to successfully complete applications.
Chapter & Individual Grants
College and alumnae chapters and individual Thetas are eligible to apply for Theta Foundation grants for non-degree educational, leadership, and service-learning opportunities. Applications are available year-round and grants are awarded on a quarterly schedule throughout the fiscal year (July 1-June 30).
Apply for Chapter & Individual Grants
Grant Application Guides
Required reading for 2019-20 grant applicants.
2019-20 Chapter Grant Application Guide

2019-20 Individual Grant Application Guide
Quarterly Grant Applications
Choose the application that corresponds to the quarter in which you would like to apply; all links redirect to the SmarterSelect online application system.
All application materials must be submitted by 3:00 p.m. Eastern Time on the deadlines indicated.
QUARTER 4

Deadline: April 15, 2020 for programs beginning on or after June 1, 2020
2019-20 Q4 Chapter Grant Application
2019-20 Q4 Individual Grant Application
2020 NATIONAL CASA/GAL CONFERENCE APPLICATION OPPORTUNITY
Current sophomore and junior college members of the Fraternity are invited to apply for Theta Foundation individual grant funding to attend the 2020 National CASA/GAL Conference. The conference will be held June 6-9, 2020, in Washington, DC. Interested applicants must submit a complete grant application by the Quarter 4 deadline, April 15, 2020, at 3:00 p.m. Eastern Time. Two applicants will be selected to attend the conference and participate in Theta-specific events. Theta Foundation will fund selected attendees' conference registration fees, airfare, and conference hotel accommodations.
For more information, please refer to the instructions contained within the application and be sure to visit the National CASA/GAL website for conference details.
Learn more about Theta Foundation chapter and individual grants by reviewing the Grants FAQ.
Scholarships
Kappa Alpha Theta Foundation is proud to support Theta collegians and alumnae with merit-based and need-based scholarships for undergraduate and graduate study. The minimum scholarship award is $1,000, and funding is awarded for use in the following academic year toward tuition, course-related fees, and required textbooks and supplies.
Theta membership dues are not an eligible academic expense.
Scholarship Application Information
The 2020 Scholarship Application (for scholarships awarded for the 2020-21 academic year) has now closed.
All applicants will be notified of their award status by the end of the day on Monday, May 11, 2020. Award status notifications will be sent to the email addresses on applicants' official Fraternity membership records.
You can learn more about the application and notification process by reviewing the 2020 Scholarship Application Guide.
Ask Us About Applying for Scholarships & Grants
Have questions about applying for Theta Foundation scholarships or grants?