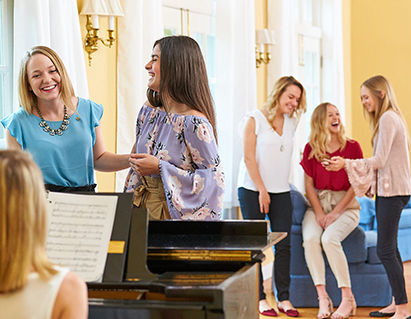 Volunteer
How can we best describe the impact of Theta volunteers? In a word: Extraordinary. The Fraternity could not function without the more than 3,000 volunteers who serve its college and alumnae women.
Volunteer Philosophy
Through our volunteer engagement program, you can:
Find an opportunity to give back in a productive, rewarding, and meaningful way.
Engage in volunteer roles that best align with your skills and natural talents.
Find lifelong opportunities to develop leadership and professional development skills, mentorships, and friendships.
Receive training, education, and support to empower you to be comfortable and successful in your new role.
Alumnae Contact Officers
Each college chapter (active and inactive) has an alumnae contact officer*, and it is this volunteer's responsibility to ensure that all of the women from the chapter have current contact information on file with the Fraternity.

Delta Epsilon/Arizona State
Epsilon Phi/Chicago
Zeta Xi/Harvard
Eta Lambda/~
Theta Lambda/Rochester
Theta Mu/Mines
Apply Now
Regional/International Volunteer
Current officer openings:
Click the Apply Now button below to visit Theta Portal and choose Forms > Workforce Volunteer Interest Indicator.
Apply Now
College Chapter Advisory Board
Check out the list of advisory board vacancies by state/province! Note that list is updated bi-monthly (last updated date in footer).

Click the Apply Now button below to visit Theta Portal and choose Forms > Chapter Volunteer Interest Indicator.

Apply Now
Frequently Asked Questions About Volunteering
Of course! Any Theta, no matter if she served as an officer in her undergraduate career or not, can complete a Volunteer Interest Indicator and will be considered for a Theta volunteer role.
No, any Theta alumna in good standing with the Fraternity can volunteer immediately following graduation.
Absolutely. We want you to feel as comfortable as possible in your role. In fact, we host regular webinars on special volunteer topics and provide manuals in the Officer Portal. If you have a recommendation about a training resource that you would like to see, contact us for more information.
Each Theta volunteer role requires a different commitment of time and effort. That's what makes volunteering for Theta so special: there is an opportunity for all types of schedules.
Contact Us
Want to volunteer or have questions about giving back to Theta? Let us know!