Juniors Devon Diller and Haley Schmer, both Beta/Indiana, find time in their busy, class-filled schedules to serve on the Monroe County CASA board of directors in Bloomington, Ind. They attend meetings, participate in event planning, etc., just as the other board members do. Even as students, they find time to help an organization that helps and protects children from abuse and neglect.
According to their website, Monroe County CASA is "a volunteer-powered program which provides representation in juvenile court for child victims of abuse and neglect. The program recruits, screens, trains, and supervises adult community members who volunteer their time to serve as Court Appointed Special Advocates (CASAs), with full legal authority set forth by the State of Indiana. CASAs provide advocacy to child victims to ensure that they remain at the forefront of the court proceedings and find a safe, permanent home as quickly as possible."
Devon is majoring in Mandarin and management and human organization with a minor in media persuasion. Originally from San Francisco, Devon first got involved with CASA through Theta. While she looks forward to becoming a CASA herself one day, she is grateful to help out in any way she can. Being on the board has allowed her to help the organization fundraiser and brainstorm how best to support CASA volunteers, staff, and the greater Bloomington community.
Haley is majoring in marketing, finance, and international business and is from St. Louis. Through her experience with Theta, she learned about how CASA supports the community locally in Monroe County and knew she wanted to become more involved. She looks forward to contributing to the impact that CASA makes on children throughout the community and getting members of Theta more involved as well.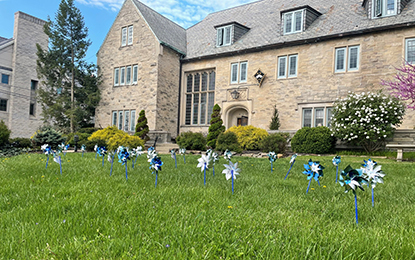 We asked Devon some questions about their involvement with their local CASA:
What inspired you to become involved?
I have been passionate about kids and working with kids. When I first went through sorority recruitment, I was inspired by Theta's commitment to not only help their national philanthropy but the local Bloomington community as well. Because I was not old enough or settled enough to be a CASA volunteer myself [editor's note: the minimum age to volunteer as a CASA is 21], being a part of the board was the next best thing. I have greatly enjoyed contributing to this organization and doing my best to support those who dedicate so much time to support those in our communities who need it most.
What roles do you serve on the board?
On the board, I contribute to the fundraising committee and the overall board as a whole. I try my best to focus on how I can get the IU community and Theta more involved in order to create the most fundraising opportunities we can for CASA. I help brainstorm and execute these plans.
Is this board position permanent, meaning will another chapter member fill your spot upon graduation?
Yes, another Beta will take my spot in the coming months. I will not remain on the board throughout my whole IU career. As much as I wish I could, it's important to get other Thetas involved so they can make their impact and build a similar connection to the organization.
How do feel this experience has affected your chapter?
Being a part of the board gives a better link between Theta and CASA, which means we can better communicate about events and have more opportunity to help build a connection between CASA and the greater IU community. This means fundraising and passion for this cause. I find myself talking about CASA, well, with anyone who will listen. I have grown very passionate about helping CASA and look forward to the day when I can become one myself.
Read more about the Kappa Alpha Theta and National CASA/GAL Association for Children partnership.