"Theta is what gives me purpose at Tulane."
This is always my response when asked what Kappa Alpha Theta means to me. This organization has been the centerpiece of my Tulane experience, and I could not be more grateful to feel so filled with love when reflecting on my time as a member of the Alpha Phi Chapter. Theta is what gives me purpose at Tulane because it has given me people to love and people to love me in return, resources to grow as an individual, and measures that have pushed me to become the best version of myself. This organization—and all of the women in it—have made me feel so valued and appreciated. To me, purpose is found when an individual feels fulfilled and loved, and I truly believe that my purpose in attending Tulane was to find Theta.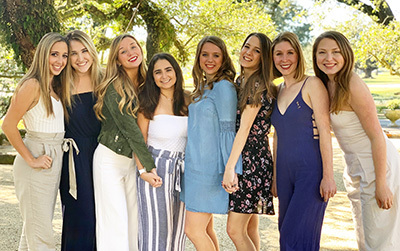 Now, as I move into the second half of my senior year, I reflect on the grand significance that my membership in Kappa Alpha Theta has had on my development as an individual. To merely skim the surface, I have learned how to be an effective leader, how to self-sacrifice for the betterment of others, and how to love unconditionally.

Theta's influence touches many more than just those who are members. It extends to touch everyone with whom a Theta connects in her lifetime. The lessons that I have learned and the love I have shared will carry with me throughout my entire life and will influence the interactions I have with others moving forward. Theta's influence will touch many more than just myself and I am excited to share these values.
Being a recipient of a Founders Memorial Scholarship is such a blessing and reminds me of the many ways in which Thetas lift one another up. This scholarship is a prime example of Kappa Alpha Theta's tremendous support and exemplifies our values: faith, hope, love.

As my senior year comes to a close, my heart is filled with so much happiness, appreciation, drive, and purpose as I move forward into the next phase of my life: a career. The most humbling and driving force is the knowledge that Kappa Alpha Theta is always at my side.

---
This blog is part of a series of posts from Theta Foundation's most recent Founders Memorial Scholarship recipients. The Founders Memorial Scholarships are awarded to four outstanding junior applicants every year. These scholarships are Theta Foundation's most prestigious awards, valued at $12,000 each. The recipients are purposefully matched to a specific founder based on their shared qualities.
Aubrey received the 2019 Bettie Tipton Lindsey Founders Memorial Scholarship as a result of the immeasurable positive impact she has had within her chapter, on her campus, and throughout her community. We encourage members who plan to pursue undergraduate or graduate study during the upcoming academic year to apply for Theta Foundation scholarships! The deadline for the 2020 Scholarship Application is quickly approaching.