All year long, as part of our sesquicentennial celebrations, we've asked members to share their Theta story with us. These stories tell how Theta has played a role throughout our members' lives, and how Theta has helped each member become her best self. We received more than 70 stories from our college and alumnae members who shared with us their memories from days in the house with roommates, sisters supporting one another through tough times including the COVID pandemic, and even experiences with diversity and inclusion within their chapter.

Members who submitted a story through Oct. 18, 2020, had their name entered in a drawing to win a beautiful piece of wall art from Magnolia, the home décor company of HGTV stars Chip and Joanna Gaines, and signed by both entrepreneurs! On Oct. 19, Bettie Locke Hamilton's birthday, we drew one name to receive the prize.
We are happy to announce that Taylor Ehrlich, Delta Theta/Florida, is the recipient!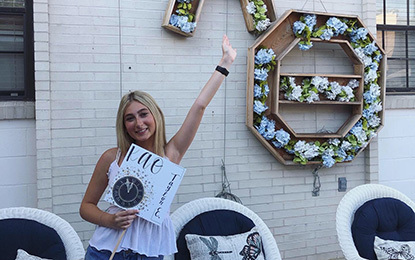 Taylor wrote: "Attending a school from out of state was something really nerve-wracking for me. My hometown always had a large amount of people who were similar to me and I was nervous to get away from that. Being a proud Jewish woman today can sometimes be difficult. But, Theta embraced my religion and all my sisters love learning about how we celebrate our holidays. Theta made me feel so comfortable being a proud Jewish woman and accepted me for who I am despite our differing religions."
We're not finished, though; we want to hear your story, too! It's easy to be part of our Share Your Theta Story campaign. Simply fill out this form and type or copy/paste your Theta story. In honor of our 150-year history, please tell your story in approximately 150 words. Photo and/or video submissions are highly encouraged! We will add your story to our Share Your Theta Story web page and feature it on our social media channels.
Note that all stories submitted will be considered for publication and edited by staff.