Recently, I had the opportunity to speak with a collegian who has a unique perspective that most of us don't: She experienced college pre-COVID-19, during the first wave of the pandemic, and is now embarking on her junior year during the surge of the Delta variant.
Sophie Thibault is a junior at St. Louis University (SLU) and a member of Eta Omega Chapter. She has a double major in theology and political science, with an emphasis on public policy, and is minoring in history. Who could've guessed these areas of study would be so relevant during her college experience? Who could've guessed that a pandemic would emerge and cause many to look to and question our politicians and our inherent beliefs, and our trust in the systems that are meant to protect us and keep us safe?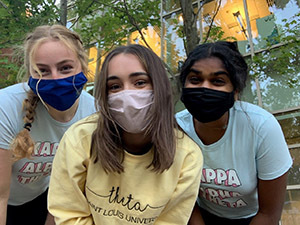 With all that in mind, Sophie and I were able to keep our conversation light. We talked about what it was like to experience campus life the past two school years, and what she expects—and hopes—will happen this year.
Sophie was initiated in October 2019, during her freshman year. She has enjoyed learning the ins and outs of campus life at SLU, which is a very walkable, urban school touting "brick architecture with a modern-ish twist," and a layout which is split into two areas: North campus and South campus, with the two halves being divided by a large pedestrian pathway.
Members of Eta Omega Chapter are eligible to live in DeMattias Hall during their sophomore year. Each Greek organization has its own floor in "DeMatt." The timing was perfect for Sophie: In the midst of the pandemic, she was grateful for this opportunity that allowed her to be close to her friends and not feel as isolated as those in apartments or other dorm settings. Many students' experiences lacked in-person interaction and, not surprisingly, we're hearing of the negative mental health effects that resulted. Sophie described the Greek-life dorm as a "blessing."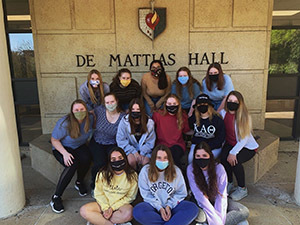 The Theta floor, managed by the Fraternity Housing Corporation, offered single occupancy rooms and a living room with a TV and couches where members could gather and study, watch movies, or attend virtual chapter meetings together. There is also a chapter room and locked cabinets full of ritual and craft supplies and materials.
Meals were still served in the dining hall, but they were presented in to-go containers and all utensils were disposable. As Sophie pointed out, it was an "environmental nightmare" but very necessary and convenient.
Classes were conducted in varying settings; Sophie's were a mix of in-person, hybrid, and completely virtual. The in-person classes were held in lecture halls with every other row left empty and social distancing practiced between the seats. Sophie missed the organic opportunities to connect by leaning over and asking, "What did [the professor] just say?" or by introducing herself to her peers.
Ever the optimist, Sophie did see positive aspects of the college experience in the pandemic setting. The mail room, for instance, required appointments for mail pick-up, so there was no line. This was nice. A lot of aspects of life were faster. She also felt increased productivity and found herself with more free time available. Extracurricular meetings were on Zoom, so eating meals during meetings was acceptable and she didn't have to factor in travel time. She had the ability to schedule virtual meetings with professors immediately following class, rather than having to travel all the way across campus during off hours.
Members of Eta Omega found creative ways to stay engaged during this time to ensure a positive experience and to make memories with each other despite the physical distance. They would have themed chapter meetings, for instance. It started with Sophie's new member class dressing in costumes to make other members laugh. This turned into a regular occurrence for the entire chapter with a new theme being picked each week. Seeing everyone on the screen dressed up was fun and fostered connections; everyone felt like they were participating even though not everyone was speaking.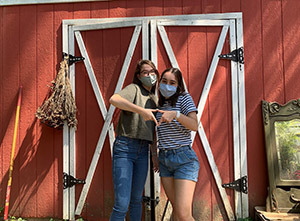 Now, the 2021-2022 academic year is underway. Fall recruitment will be starting soon at SLU. The first rounds will be facilitated via videos and Zoom calls, and they are hoping to host their philanthropy and preference rounds in person (masked and socially distanced). Bid day will happen in person and outside if all goes according to plan. Initiation was conducted virtually last year and only time will tell if another in-person event will be a possibility this year.
When reflecting on a post-COVID-19 college experience, having in-person chapter meetings is what Sophie is most excited about. Being able to host events is at the top of the list, too, and she can't wait to meet last year's new member class and COB (continuous open bidding) members face-to-face: She's never met her "littles" in person! She is very much looking forward to things being safe again and picking up where they left off.
With school, she's looking forward to working with her classmates more by means of hosting study groups, meeting in the library or dining halls, simply to cram for exams with friends at the same table: "The little things like that."
It is really about the little things.