Because of Theta
08/13/2018
When talking about college with my friends during our senior year of high school, we all discussed going through recruitment and joining a sorority. It was something that I wasn't against, but I also was not dead-set on joining a sorority. I just didn't think it necessary. That was until I moved into my dorm the beginning of freshman year and realized I didn't have any friends ... in fact, I knew no one.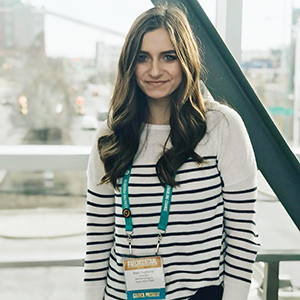 Adjusting to a new school with new people is overwhelming, especially when you've had the same friends your whole life. Luckily, my roommate felt the same way, and we decided to go through recruitment together. I thought that accepting a bid would help me build friendships and maybe, if I was lucky, teach me something about myself or others. However, accepting a bid and being initiated into Kappa Alpha Theta has contributed so much more to my life during the past three years!

Being a Theta has given me my best friends and roommates. The women I go to when I'm having the worst day or the best are all sisters who love and support me despite how the day is going. Theta has allowed me to meet and befriend inspiring and strong women who have in turn taught me how to be strong and inspiring to others. The friendships that I've gained through Theta are friendships I never thought I would have, but I am so thankful that I do.
The women in Theta have helped me find my passions and have encouraged me to pursue them no matter how crazy they may sound–even if my passion and goal is to pet every dog that I see. When I was on the fence about applying for a leadership role and didn't feel qualified, my sisters encouraged me and helped me see the potential and strengths that I have. This encouragement from them has given me the opportunity to hold a leadership position on the National Panhellenic Conference board at Belmont two years in a row. Through this role, I have learned how to be a leader, how to help others lead, and how to give back to the Greek community that has given me so much.
Senior year of high school, I had no idea how much I would grow and benefit from joining a sorority. I never thought that being a part of a group of women could change the trajectory of my college career as much as it did. The magnitude of the impact that Kappa Alpha Theta has had on my personal and professional life is immeasurable and I am where I am today because of Theta.