"Now that we're old ladies, we finally have boobs."
The comical quote was uttered in a communal bathroom at my sorority house in Stillwater, OK during reunion weekend for women who joined Kappa Alpha Theta in the 1970s.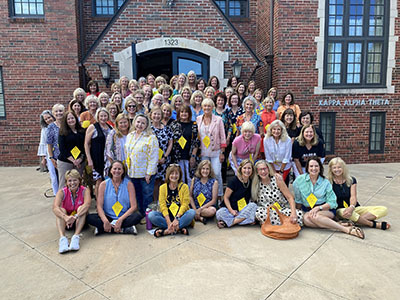 I roared with laughter, closed my eyes and could see — and hear — my young friends in those same bathrooms when I, working toward a 1981 degree in journalism, resided there for five semesters.
Back then, we boogied to The Commodores' "Brick House," swooned over our boyfriends while curling our hair with hot or pink sponge rollers and played pranks on one another.
On Saturday morning, the conversation was every bit as amusing but, at the same time, heartbreaking.
One of my pledge sisters, who's battling metastatic breast cancer and has had a double mastectomy, described how she walked in sock feet, stark-naked into an imaging room at the Mayo Clinic to determine if plastic surgeons would take fat from her lower back or inner or outside thighs for her reconstruction surgery.
"Do you need any donors?" asked a slightly older sister, providing welcomed comedic relief.
Still, it was more than painful to learn of the life trials this sister and others have endured — from losing infants and seeking help for adult children with drug addictions to caring for ill spouses and getting over cheatin' ones.
We hustled downstairs for a presentation on razing and replacing our beloved sorority house, accepting how inevitable and necessary a rebuild is, after having just slept over in the tired rooms upstairs and then hearing about the current inadequacies in space, utility efficiencies, disability accommodations and more.
A lot has changed over the years — from wireless phones (we '70s pledges took turns on phone duty, answering the house's main landline phone) to digital and online learning (hard-backed books, new or used, are a thing of the past).
But our sorority values — represented by the four points of our kite-shaped badge — have remained steadfast: intellectual curiosity, leadership potential, commitment to service, and personal excellence.
Over lunch at Eskimo Joe's, I remarked to my pledge sisters that we, when we were there, were too caught up in finding romance or work in our respective industries and missed the gravity of the real value of our time at Oklahoma State University and in the sorority: the friendships we developed here that would span our lifetimes.
The highlight of the weekend was when our sisters who were initiated 50 or more years ago shared what the sorority experience meant to them.
One gal was on bed rest the last three months of her pregnancy with her firstborn and a sorority sister visited and took care of her every day. Another taught her sisters to knit and, to her delight, many to this day are still knitters. A third didn't have biological siblings, and very much has considered her sorority sisters as family.
"Theta made me a better person and a more confident person," she told us over Saturday night dinner at Hideaway Pizza, which incidentally was situated in a hole in the wall when we were there. "The sorority has connected me with people who've carried me for the rest of my life," she said.
"Theta for a Lifetime." It was a slogan we memorized and snickered at when we were pledges so many years ago. But now, we get it.