Jenni Broughton Schmaltz, Gamma/Butler, was named chief executive officer (CEO) for Kappa Alpha Theta in July 2022 and was highlighted in the Summer issue of Kappa Alpha Theta's The Magazine. Here is a sneak peek at part of that conversation.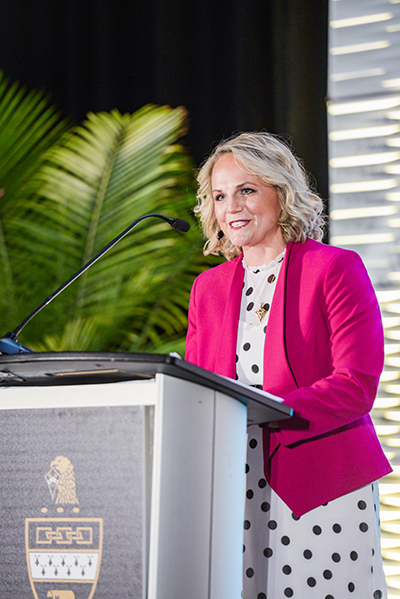 WHAT ARE YOU MOST LOOKING FORWARD TO IN YOUR NEW ROLE? The people are what make working for Theta so fulfilling. While I have worked for Theta for over 17 years and have had the opportunity to meet and work with many collegians, alumnae, staff, and volunteers over the years, I am excited to form new relationships and to work with Theta members and volunteers in a different capacity. I am constantly in awe of the amazing Thetas who make this organization so special.
WHAT'S A QUALITY OR SKILL OF YOURS THAT DISTINGUISHES YOU OR THAT YOU'RE MOST PROUD OF? My top strength in Clifton's StrengthsFinder is responsibility. The way this typically presents itself is through a fierce determination to get things done. I am not one to back down from a challenge and if there is something that needs to be accomplished—no matter how impossible or challenging it may seem—I will find a way to make it happen.
"LOOKING AT ME, NO ONE WOULD GUESS…" For a few years in grade school, I wanted to be an astronaut. Between a trip to the Kennedy Space Center in Cape Canaveral and the Museum of Science and Industry in Chicago, my interest was piqued. While that idea did not make it out of elementary school, my favorite movie is Apollo 13 and I think space will always fascinate me.
WHAT DOES THE CONCEPT OF "WOMEN SUPPORTING WOMEN" MEAN TO YOU? It means supporting each other through the highs and lows. It is celebrating with one another at weddings, birth of children, and career successes. It is pushing one another to be better students, to go after that next goal, and to pursue passions. But it is also about being there for one another through challenges like divorce, job loss, parenting struggles, scary health diagnoses, and loss of loved ones. I have witnessed and experienced Thetas supporting Thetas in these ways time and again.