Zeta Xi Chapter was officially reinstalled on Sept. 11, 2022, in Cambridge, Mass. Jenni Schmaltz, Theta's chief executive officer (CEO), and Erica Ochs, Fraternity president, joined Katharine Murphy, director of collegiate services, Zeta Xi advisors and members, and me to celebrate this exciting moment for the chapter. The chapter's 1993 and 2022 charters both hang in their new facility meeting room.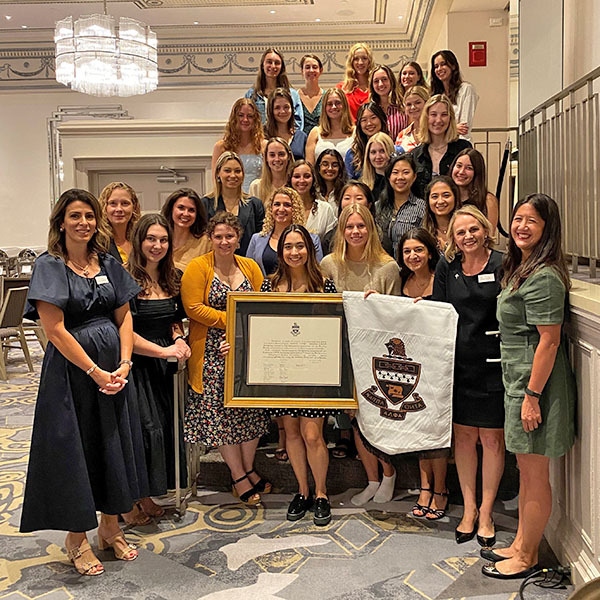 The Zeta Xi's vice president membership (VPM) and vice president education (VPE) did a wonderful job recruiting and initiating 24 members during the informal recruitment and new member education process. In early October, members received access to their facility, located in the heart of Harvard Square. While the facility was completely empty until early November, members still enjoyed hosting bagel brunches and pizza nights where they sat on the floor and enjoyed each other's company in their new shared space; The lack of furniture did not stop them from enjoying their space to the fullest.
The facility was furnished the first week of November by Fraternity Housing Corporation (FHC) Interior Designer Aimee Wheatley, who did a beautiful job at making the space feel like home. Members can now host study sessions and breaks, socials, and chapter meetings in the facility.
Zeta Xi Chapter currently has 99 active members on its roster and is planning to host a larger formal recruitment this spring. Learn more about Zeta Xi Chapter's history on the Theta website.
Welcome back to Theta, Zeta Xi Chapter!