Have you ever seen a shiny silver sticker on one of your brand-new Theta T-shirts? Have you seen a circle logo with the term "Affinity Licensed Product?" These indicate that the item associated with the sticker or logo has been purchased from an officially licensed vendor. All Theta-branded items should be purchased from a vendor with a license to use our trademarks. Below are some common questions about licensing and how to find a licensed vendor.
Why should I order from an officially licensed vendor?
When purchasing an item from an officially licensed vendor, you are buying items from vendors who are legally allowed to sell items with the Kappa Alpha Theta name, symbols, letters, and logos. These vendors have been pre-approved by Kappa Alpha Theta staff to use our name and marks in a way that upholds the integrity of Theta's brand identity and notable history.
How do I know if a vendor is officially licensed?
Vendors will have the licensed vendor logo image (below) on their website or listing page to show that the product(s) you are shopping for are officially licensed. The best places to look for this logo are either in the product's listing photos or at the bottom of the vendor's website. When placing an order over the phone, just ask the vendor!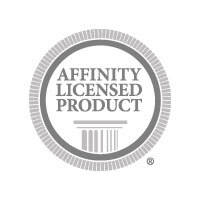 What should my chapter do if we want custom shirts for an event like bid day?
Many officially-licensed vendors will work with chapters to create custom items from start to finish. Vendors will help with selecting the product, like a soft T-shirt, and they will help make the desired design come to life. If you're working with an officially-licensed vendor, you can work with them for whatever your chapter needs!
I've heard that I need my custom design(s) approved by Theta headquarters staff. Is that true?
When purchasing Theta-branded items through an officially licensed vendor, they undergo an approval process on the vendor side. If the item design is not approved, you will work with the vendor to adjust the design until it is approved. You do not need to submit a design separately to Theta headquarters staff.
I have a small business and would love to sell Theta-specific merchandise. Can I become an officially-licensed vendor?
Yes! If you are interested in selling Theta-specific merchandise, please visit https://greeklicensing.com/licensing to learn more about the process and apply for a license.