The role of volunteers in Theta's history is significant. From collegians who volunteer to serve as chapter officers and alumnae who serve at all levels of the Fraternity, these individuals give of their time to maintain and grow our organization.
At the Fraternity level, our college members are the ones who first filled leadership positions. It was not until 1881, when a reorganization of the Fraternity's governance structure enabled alumnae to serve. In part this was because of the growth of the Fraternity – from two chapters by the end of 1870 to 16 chapters by mid-1881 – but also due to the formation of "alumnae." Prior to June 1881, less than 400 alumnae were willing to volunteer to see that Theta continued to grow. (Note: As of today, there are more than 200,000 living alumnae.)
As Theta grew, it created officer positions to help manage that growth. District presidents were added in 1893; permanent alumnae secretaries, now known as alumnae contact officers, were created in 1907.
One of the earliest references to a structured college chapter advisory board was in 1907, when the Syracuse Alumnae Chapter created committees of alumnae to work with committees appointed by Chi/Syracuse. The groups worked on recruitment and the facility. They stressed that "they consider themselves merely an advisory board, leaving the real action and responsibility to the girls themselves that, by the solving of their own problems, and the bearing of their own burdens, they may become strong and capable and courageous women." Most likely there were other alumnae working with their local college chapters.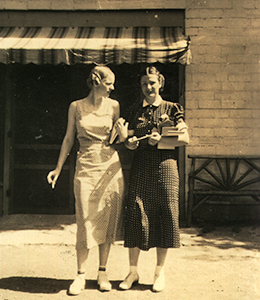 It is hard to quantify how many Thetas have volunteered at the college, community, state, and Fraternity level over the decades. For some, we know them by name as we have their stories captured in the pages of the Theta Magazine. For others, they are not named but only short references to the work accomplished by these women still remain.
Theta has many women to whom "thank-you" must be said throughout its 150-year history. For if it were not for these women who volunteered to serve in officer positions, on committees, as chapter advisors formally or informally, or helped with their local college chapter or alumnae group in ways large and small, Theta's story would have been much different. We thank them and all those who continue to contribute their time to help Theta.
More information on volunteering for Theta can be found on the Volunteer page.