Happy New Year! Did you make any resolutions for 2019? If so, I hope one of them is to learn more about Theta's past. An easy way to do that is to spend some time on the Theta Heritage site.
With Founders Day right around the corner (Sunday, Jan. 27), you might take a few moments and revisit our founders. Refresh your memory about who these women were and their work to establish Theta. Read about what Bettie, Alice, Bettie, and Hannah did after they left DePauw. Find a local Founders Day celebration or create one of your own.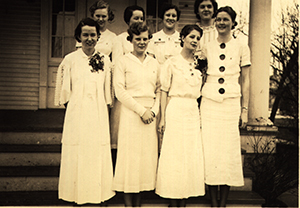 Are you wondering what artifacts we have in the archives related to our founders? You can see a few items here or view the virtual tour of the 2017 exhibit Bettie and Her Family. If you're wondering how members celebrated Founders Day in the past, you can take a look here.

I am keeping my New Year's resolutions for the archives simple this year: many are centered around preparing for the celebration of our 150th anniversary in 2020. Check back often as we have several surprises in store as the archives gets ready for our sesquicentennial in 2020.