In honor of U.S. National Archives Month, here are ten things to know about the Theta archives:
1. If you stacked all the physical content in the archives, it would be over 600 feet tall. Think the same height as the Space Needle in Seattle, Wash., taller than the Washington Monument in Washington, D.C. or three-fifths as tall as the Eiffel Tower.
2. The archives contains the records of the Fraternity, Theta Foundation, and Fraternity Housing Corporation. It is the official repository of those entities and provides support for officers, staff, chapters, and members.
3. All of Theta's college chapters are represented in the archives, both active and inactive. Of course, there is more material about our older chapters than more recently established ones, but we have something about every one of them.
4. Most of Theta's alumnae groups are represented in the archives. We have items about alumnae chapters as well as materials from early clubs and information about alumnae circles. Hundreds of communities are represented in the archives.
5. Individual members are represented via donations of mementos of their experiences while in college or as alumnae participating in Theta activities. The archives maintains biographical files about many Thetas, some of which may be found on the Notables area of the Theta website. If you have questions about whether the archives would like something you would like to donate, please contact archives@kappaalphatheta.org.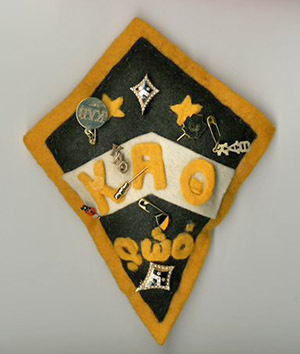 6. The archives maintains copies of all printed materials produced by Theta, including the entire run of the Theta magazine from June 1885 to present, handbooks and manuals, histories, and other printed materials.
7. Photographs and artifacts help us visualize Theta's past. The archives has over 25,000 photographs and slides, and that does not even include the images found in scrapbooks and other sources.
8. Digital materials are a growing part of Theta's archives. Digital materials encompass not only scanned items such as photographs and the Theta magazine, but also "born-digital" records: items created digitally and only live digitally. This area of the archives will only continue to grow.
9. Members can reach out to the Theta archives to ask a question about any aspect of Theta's history. Contact archives@kappaalphatheta.org with your questions.
10. It is through the work and donations of members past and present that the archives is what it is today. I cannot thank them enough for what they have contributed to make sure the stories of Theta have been preserved to share for current members and future Thetas.