In honor of U.S. Women's History Month, I wanted to share with you several Thetas who have made themselves known in the arena of international affairs.
Ruth Woodsmall, Beta/Indiana. Woodsmall began her studies at Indiana University but finished at the University of Nebraska, affiliating with Rho Chapter. She coordinated activities of the U.S. YWCA Hostess Houses during World War I and then did post-graduate work in the Baltic and Balkan countries. Woodsmall then served in the Near and Middle East from 1920–1928. She became General Secretary of the World YWCA in 1935 and served until 1947. After World II, she was Chief of Women's Affairs for the U.S. military in Germany. In relation to her work, she authored several books on women in the Middle East: Moslem Women Enter a New World (1936) and Women in the Changing Islamic System (1936).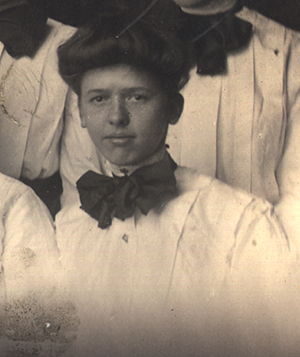 Hannah Clothier Hull, Alpha Beta/Swarthmore. Hull is considered one of the founders of the Women's Peace Party and the Women's International League for Peace and Freedom. Her involvement in the international peace movement began in 1907. She served on the American Friends Service Committee board from 1928-1947, and was involved with the American branch of the Women's International League for Peace and Freedom from 1924-1939. She also was involved in the suffrage movement in Pennsylvania.
Mary Vance Trent, Gamma/Butler. Trent became one of the first female foreign service officers of the U.S. State Department, serving in France, Norway, Indonesia, New Zealand, and Micronesia between 1946-1974. She later served as president of the Society of Women Geographers, 1984-1987. Her oral history about the reframing of the "spouse school" conducted for the spouses of foreign service officers is in the Library of Congress Collections.
Karen Koning AbuZayd, Alpha/DePauw. AbuZayd worked for the United Nations, most recently serving as a Commissioner on the Independent International Commission of Inquiry on the Syrian Arab Republic (2011-2021). Prior to this post, AbuZayd worked for the office of the United Nations High Commission for Refugees in the Sudan, Namibia, Sierra Leone, and Bosnia. She was appointed Commissioner-General for the United Nations Relief and Works Agency for Palestine Refugees in the Near East (2005-2010) and UN Special Advisor on the Summit on Addressing Large Movements of Refugees and Migrants (2016).
Monique Quesada, Alpha Gamma/Ohio State. Quesada has served in several roles with the U.S. Department of State as a foreign service officer beginning in 1988. Some of her posts include Consul General in Marseille, France (2014-2017), Deputy Senior Civilian Representative in Afghanistan (2010-2011) and Cultural Attaché in London (2011-2014), and Senior Advisor (semi-retired) for the last several years.
For other Thetas who have worked in international relations, check out Notable Thetas and search the category "International Relations."