If you follow the Fraternity Housing Corporation (FHC) on Instagram, you have surely seen some of the designs that have been posted. There is a deliberate, meticulous process that goes into a design with a team that works hard to get it done.
Initially, the property manager will visit the house to assess the chapter's needs and talk to chapter members, officers, and advisors. The interior designer may visit as well to decide what needs to be done and to assess the project's size. The project manager is brought in on any project that has construction needs. During that visit, they take measurements and pictures, as well as document items that need to stay, obstacles in the way, and any other notable detail.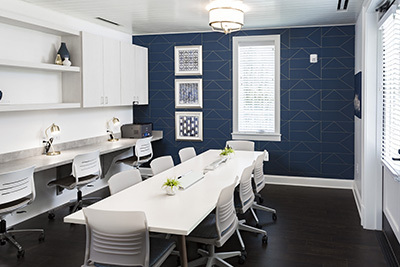 After the initial visit, FHC staff will decide if the project is construction-related and if architects and contractors need to be hired. If so, the project manager becomes more directly involved. If no construction is needed, the interior designer will take the measurements and input them in the drawing software that FHC uses for floor plans. Many times, there are different options of how furniture can be placed, so those options will be sent to chapter officers to gauge their favorite. We like to involve the chapter members whenever possible in designing the space.
Once the layout is chosen, FHC staff will send a survey to chapter members and advisors so the interior designer can better understand what the chapter wants out of the space's look and feel. The goal of these designs is to build a space that chapter members want to live in, and a space that alumnae want to visit. We strive to design welcoming and inviting spaces and to make spaces feel like they really belong to that specific chapter.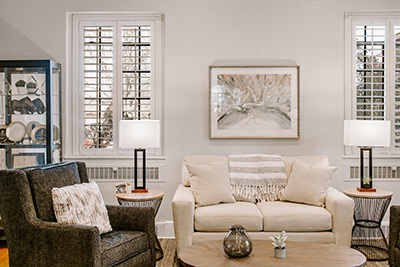 As soon as the survey has been completed and FHC staff retrieves the information needed, the interior designer gets to work on sourcing furniture and picking out paint colors, tile, and any other FF&E (furniture, fixtures, and equipment) items. There are many different places where FHC sources furniture and, depending on the survey, will include Theta-related items, specialty items, certain colors or themes, and many other things. Oftentimes, the interior designer and property manager will provide options for chapter members to choose from. Occasionally, this includes things like choosing one of two options for sectionals or which chair they like best for a study table.
Once all the furniture, artwork, lamps, accessories, and the like are purchased, the interior designer will work with the respective store's representative to get the design items to a warehouse and stored until it is time for install. The property manager works closely with the chapter to choose a day that works best for install. On install day, multiple FHC staff members arrive at the chapter to help facilitate the install. The FHC utilizes white glove delivery, meaning that the movers will bring in all the furniture, take off all the wrapping, assemble items, place them where they go according to the floor plan, and take away all trash.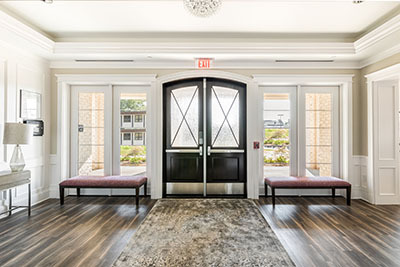 When install is over and before FHC staff departs, they provide cleaning information, floor plans, a furniture and finish schedule, and any other pertinent information to the facility director. This information will come in handy when items need to be cleaned or if furniture is moved out for recruitment, knowing where it goes when they bring it back in. FHC strives to leave chapter members with a home chapter members love living in.