Gamma Rho Chapter at University of California, Santa Barbara (UCSB) was recently recognized as the first Green Certified chapter house in the state of California. This certification indicates that the facility has reached a high level of environmental friendliness for the property.
Hudson Pollack, the chapter's sustainability chair and a member of UCSB's Greeks Go Green, shared with us more about the process and why it was important for Gamma Rho Chapter to become certified.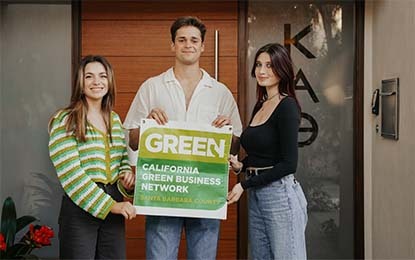 Why did your chapter undergo this certification process?
As a chapter, we are truly enthusiastic about sustainability, preventing environmental degradation, and saving the planet from the harms of climate change. By going through this process and ultimately becoming certified, we are taking a monumental step in the right direction and combating these problems. If we know that we have made our Gamma Rho chapter house more environmentally friendly, we know we are helping contribute to a bigger and worldwide effort in preserving our planet for the future. Although it is just a Greek chapter house in just a college town, any form of progressive change is great!
What does this mean for your chapter members?
This is so beyond exciting. Considering we are the first Greek chapter house to complete the Green Certification process, we are happy and thrilled to hopefully inspire other chapters and Greek communities to become certified as well. We are happy in knowing we are doing our part in being sustainable and environmentally conscious. Likewise, we hope to generate more sustainable efforts campus-wide and act as a role model for those trying to be environmentally conscious!
How has this impacted your chapter (as far as living situation and operations)?
Truthfully, not much has changed regarding living situations and operations. Much change had dealt with making sure we were conserving energy by using proper lighting appliances and products that would decrease our emissions (something that those living in the house would not necessarily recognize in their day-to-day tasks), low-flow nozzles to conserve water, advocating for sustainable practices such as ridding ourselves of single-use items, turning off the lights when no one is in the room, and even implementing reusable coffee filters for a Keurig. In terms of operations, the same is true! If anything, the only hard task was switching out appliances and making sure that, as we continue on this journey, we make sure to purchase items that are decreasing our carbon footprint and help conserve energy.
What would you recommend to other Theta chapters considering becoming "green"?
I would recommend that they get started immediately in becoming Green Certified! All you must do is register with your local Green Business and begin checking off items presented on the checklist. It is super fun getting everyone involved and contributing, and to develop real life skills regarding active communication and understanding different components that go into creating a working establishment. If becoming Green Certified feels daunting, I would recommend starting simple: Minimize single-use plastics, always turn off the faucet, use a reusable water bottle, shop locally to support small businesses, reduce food waste, and always recycle. Most importantly, however, I would recommend educating oneself on how to properly be sustainable, environmentally conscious, and what the implications are of these acts. Education is always beneficial and can help perpetuate future, productive efforts! Knowing how you can help, even on a small scale, is a great way to start being green!