Even if we can't host large gatherings in chapter facilities, there are still many ways to stay connected to one another! Many Theta sisters across the country have been thinking up fun and creative ways to connect while staying safe.
Virtual Watch Parties
Watch your favorite shows or binge-watch a Netflix series with your sisters. Create recurring weekly times to catch up on current shows and another time to have a weekly movie night. Grab your favorite snacks, invite your sisters, and enjoy!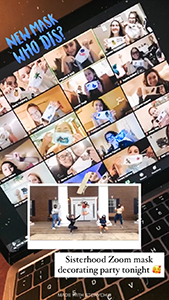 Chapter Newsletters
Advertise your virtual watch parties, share information about how to get involved in various ways on campus, create a member of the week highlight…the possibilities are endless. Creating a newsletter is a great way to share information with your members, share resources that are not Theta-specific, help members get to know each other better, and much more..
Outdoor Activities
Grab your meal from the house, gather a small group of sisters, and spread out for a picnic, a walk, or find an outdoor work out class to join. Outdoor activities also give you an opportunity to explore your campus or town.
Drive Thru Activities
Do you usually host a philanthropy event that involves food at your chapter facility? Tweak the event to offer a drive-thru or to-go option so you can still hold your event without putting anyone at risk. You can also create a sisterhood event that includes having sisters stop by to grab a bag of the goodies they will need for a virtual event (like a snack bag available for pick up for a virtual movie night).
Online Cooking/Craft Class
If you have access to cooking equipment, you can schedule an online cooking or baking class for your members. Each member can cook or bake from their homes while still socializing and learning a new recipe as a group. If cooking isn't your thing, you can look into virtual craft nights. Some options might send you a kit, while others offer a shopping list of items to purchase before the event. (Just be sure to cover your Theta furniture so it doesn't get damaged!)
Volunteer
There are plenty of options to volunteer in small groups that are safe. Try signing up to volunteer at your local animal shelter where you can get your puppy fix without needing to bring one home. It's a great way to give back to your community and get out and about with a couple of sisters who share your interests.
Disclaimer: We recommend following CDC guidelines, referring to restrictions established by your local/state government, and keeping your chapter facility rules in mind when considering if these ideas can be incorporated for your chapter.