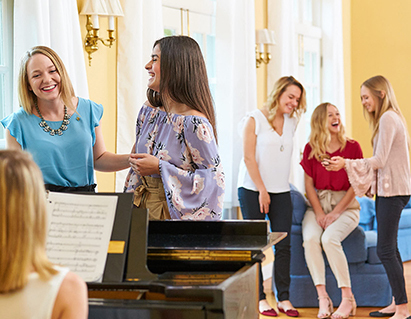 Mental Health Resources
Kappa Alpha Theta aims to increase the dialogue around and support for all aspects of mental health. As an organization, our goals include creating a safe environment for members to discuss mental health issues, encouraging members to recognize when someone might benefit from mental health support, and supporting members facing mental health challenges and conditions.
Anxiety Disorders & Depression

Attention Deficit/Hyperactivity Disorder (ADD/ADHD)

Bipolar Disorder

Borderline Personality Disorder

Eating Disorders

Hazing Prevention

Mental & Emotional Health

Schizophrenia

Suicide Awareness & Prevention

Substance Abuse
We recognize this is not an all-encompassing list and encourage you to check out National Today's Mental Health Awareness Holidays List to further inform your mental health programming calendar.
Mental Health Screening
It only takes a few minutes to determine if you or someone you care about should connect with a mental health professional. These screenings are made available to members thanks to a generous grant from the Theta Foundation.
Take the Screening
QPR Training
College chapters have the opportunity to participate in QPR training, a suicide prevention method that stands for Question, Persuade, and Refer. This virtual training is asynchronous and can be completed as schedules allows.
Request the Training
Sexual Assault Statement
Kappa Alpha Theta:
Supports survivors of sexual misconduct and sexual violence.
Is committed to engaging members in prevention and intervention efforts.
Does not support events contributing to the objectification/sexualization of groups of people, including women, or the reinforcement of restrictive gender roles.
Works to connect members to resources to prevent sexual misconduct and sexual violence, as well as resources for those members who are survivors of interpersonal violence.
Encourages all college chapters to host presentations from campus/professional experts on college/university policies and procedures, as well as on prevention and intervention best practices and recommendations on an ongoing, regular basis.
Contact Us
Contact us with questions about the mental health resources on this web page or with suggestions for additional content.