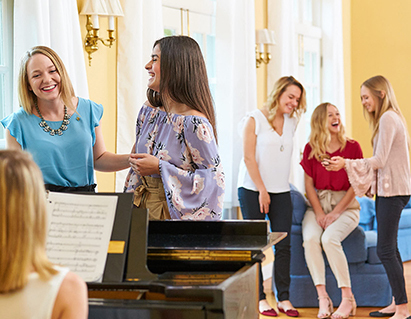 Sisters Supporting Sisters
Sisters Supporting Sisters is a mental health initiative designed to increase the dialog concerning and support for all aspects of mental health. Goals of the program include creating a safe environment for members to discuss mental health issues, providing guidance for recognizing signs of and helping members with mental health challenges, and supporting members facing mental health challenges and disorders.
Sisters Supporting Sisters provides online resource materials for college chapters and advisors to openly discuss, recognize, and provide guidance for members facing mental health challenges and disorders. Through partnerships Kappa Alpha Theta has developed with mental health professionals and organizations, Sisters Supporting Sisters is the first Greek initiative dedicated to promoting all aspects of mental health and wellness.
About one in four adults suffers from a diagnosable mental illness in a given year. (National Institute on Mental Health)
Nearly 45 percent of college students have felt so depressed they found it difficult to function, yet only 20 percent were likely to turn to a school counselor for help. (Results of a 2004 American College Health Association study)
Less than one-third of adults with a diagnosable mental disorder receive treatment in any given year. (U.S. Department of Health and Human Services)
Treatment for mental health disorders is working. Between 70-90 percent of those who seek help see a vast improvement in their symptoms. (National Alliance for the Mentally Ill)
Kappa Alpha Theta encourages members to seek out resources to help with their mental health. This includes technology and we've listed resources below that members may find useful:
Mental Health Screening
It only takes a few minutes to determine if you or someone you care about should connect with a mental health professional.
Take the Screening
Theta Foundation
The Sisters Supporting Sisters initiative is a Fraternity program sponsored by a grant from Kappa Alpha Theta Foundation.
Learn More
Sexual Assault Statement
Kappa Alpha Theta:
Supports survivors of sexual misconduct and sexual violence.
Is committed to engaging members in prevention and intervention efforts.
Does not support events contributing to the objectification/sexualization of groups of people, including women, or the reinforcement of restrictive gender roles.
Works to connect members to resources to prevent sexual misconduct and sexual violence, as well as resources for those members who are survivors of interpersonal violence.
Encourages all college chapters to host presentations from campus/professional experts on college/university policies and procedures, as well as on prevention and intervention best practices and recommendations on an ongoing, regular basis.
Contact Us
Contact us with questions about the Sisters Supporting Sisters mental health initiative.