2023 marks the 75th year of Kappa Alpha Theta membership for a very special group of members. The 375 Thetas celebrating their 75th anniversary, or Diamond Thetas, were initiated into Theta in 1948. When I reflect on the experience these members have had, I can't help but think about what it would have been like to be a college student during that time, especially as a woman. Post-World War II, in a time when women were attending college to obtain an education but also to meet a partner, these members also chose sisterhood. At a time when traditional gender roles often narrowed the possibilities for women, our Diamond Thetas joined a women-only organization where its members help uplift and encourage other women, supporting them to achieve their dreams.
We honor these members by gifting them with a special pansy pin, and we often receive notes and photos of our Diamond Thetas beaming with pride as they wear their new pin. I love to hear the stories of living in the chapter house, serving in an officer role, and meeting their lifelong best friend during their years as a collegian. Even though these members joined our organization almost a century ago, these memories are very similar to the stories of today's college members. The benefits of Theta membership go beyond decades and although the landscape has changed drastically in the last 75 years, the purpose of our organization has remained the same. Kappa Alpha Theta still provides countless opportunities for its members to build lasting friendships and achieve their educational, personal, and professional goals, for whichever path they choose.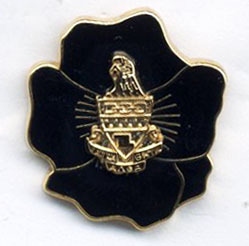 To view some of our Diamond Thetas' photos, visit the Theta website. If you know a member who is celebrating their 75th year of membership (or if you are a Diamond Theta yourself!), any photos or correspondence can be sent to aluminfo@kappaalphatheta.org.