Gina participated in the annual Fraternal Government Relations Coalition (FGRC) Capitol Hill Visit in April 2022 to advocate for legislation that is important to the success of fraternity and sorority organizations across the U.S.
As a proud member of Psi Chapter, I was thrilled when our chapter president approached me with the opportunity to represent Kappa Alpha Theta on Capitol Hill. I applied for the Fraternal Government Relations Coalition visit because I am interested in public policy as a Political Science and Journalism major, and I am well-versed on the inner workings of fraternity and sorority life as the Panhellenic president at the University of Wisconsin-Madison. Through my participation in the FGRC Capitol Hill visits, my goals were to promote legislation that benefits the fraternity and sorority life community, connect with other students from throughout the United States, and further develop my interpersonal communication skills.
I was honored to be selected to represent Kappa Alpha Theta and the University of Wisconsin-Madison Panhellenic community when meeting with staffers from Senator Tammy Baldwin, Senator Ron Johnson, and Senator Debbie Stabenow's offices. Our asks for the staffers were primarily focused on co-sponsoring legislation that promotes students' freedom of association, tax deductions for donations to chapter facilities, and anti-hazing. While the visits were remote, having the platform to talk in a small group with senate staffers—many of whom are fraternity- and sorority-affiliated—helped to promote the value of the Greek experience and will hopefully push their respective senators to cosponsor the pieces of legislation. I was also thrilled to have the opportunity to connect with other Thetas and members of other Greek organizations from across the country.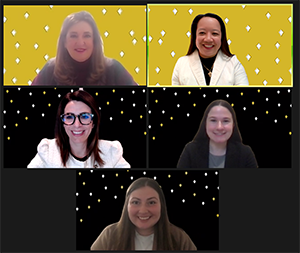 From my participation in the FGRC Capitol Hill visits, I learned more about the threats that fraternity and sorority organizations face throughout the United States and what I can do to promote the continual success of our groups. My membership in Psi Chapter has been a formative part of my college experience, and this legislation is crucial to ensuring that future undergraduate members can thrive in fraternity and sorority life communities.